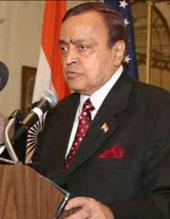 Petroleum Minister Murli Deora on Monday hinted at a hike in fuel prices, asserting that a final call on it would be taken by the Group of Ministers in the meeting to be held in New Delhi on June 7.
"The losses incurred by the oil companies and something the government should do about this. The suggestions came forth was that some people say that we have to increase the price. If we sell kerosene at Rs 9, we are loosing so much money.
After the oil price has increased we are making heavy losses on petrol, diesel and LPG," said Deora.
"We would not like to increase the price but sometimes it's just not possible because the import of oil is just prohibitive," he added.
Deora further said the rise in crude oil prices is a matter of concern and is likely to impact India.
The consultative committee meeting of Parliament members attached to the Ministry of Petroleum and Natural Gas was held here today in which they reportedly discussed the problems faced by the oil companies in the country.