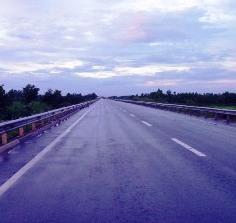 The government is banking on the private sector for the bulk of the $60 billion investment needed for its ambitious five-year programme to fill the 'road deficit', Highways Minister Kamal Nath said on Thursday.
"We require $60 billion, out of which $40 billion would come from the private sector," he told PTI.
Nath, who recently visited the US, Japan and Malaysia, said global players are expected to bring in $10 billion for his much talked-about 20 km-a-day road building projects.
He saw no difficulty in raising resources for the highways, almost two-thirds of which would be toll-based, raking in Rs 10,000 crore (Rs 100 billion) annually for the investors.
The government is also in talks with multilateral agencies for soft-funding the key infrastructure projects. Commercial borrowings are also being used by the National Highway Authority of India, he said.
"Resources are there from NHAI borrowings, the World Bank and the ADB. Sixty per cent of the roads are built under build, operate and transfer," Nath said, adding that foreign investors, particularly in the construction sector, are showing interest. Nath had announced a target of adding 35,000 km of highways under United Progressive Alliance-II's regime.
The NHAI has estimated its annual borrowings from the domestic and the international market at up to Rs 20,000 crore (Rs 200 billion) for the next 15 years.
The ministry expects that the foreign players, which are presently on the margins, would become senior partners in the construction projects in the coming years.
Private equity firms are also likely to show great interest in the sector. Nath said India offers a big opportunity for overseas investors.
"With 33 per cent growth in the automobile sector, highways offer a huge opportunity for the investors," he said.
Nath, who was rated as one of India's successful commerce ministers in the UPA-I government, said his present assignment is more challenging.
"In the previous job, even talking was progress, here talking is not progress.
This is a challenge which can transform India. Our infrastructure deficit stares us in our face and within the infrastructure deficit, the road deficit is profound," he remarked.
The capacity to handle large-sized projects within the NHAI and among the domestic players was an area of concern, which would be getting his attention.
"The most important task is capacity-building. You need to keep having substantial amount of work in progress," he said.
Nath exuded confidence that contracts for construction of 12,000 km of roads would be awarded this fiscal.
The figure would double in 2011-12, as award of these projects would result in a large quantum of work being executed simultaneously, he said.