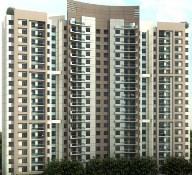 Property prices have hit an all-time highs in India's financial capital, Mumbai. With builders vying for prime properties in the heart of the city, price is no longer a deterrent for realty players.
Lodha Developers has emerged as a new realty giant in India. The company won the bid to acquire a 22.5-acre plot in Wadala, central Mumbai, for Rs 4,053 crore (Rs 40.53 billion) in an auction conducted by Mumbai Metropolitan Region Development Authority (MMRDA). Lodha quoted a whopping Rs 81,818 per sq mt (Rs 7,601 a square foot -- 1 sq mt = 10.7639104 sq ft).
This is a huge sum for a real estate company whose net worth on a consolidated basis at the end of 2009-10 financial year was Rs 266 crore (Rs 2.66 billion) and net profit was Rs 95.66 crore (Rs 956.6 million).
Though real estate and financial experts have expressed doubts over the viability of Lodha Group's bid, its managing director Abhisheck Lodha is upbeat about the deal and has predicted a profit of over Rs 3,000 crore (Rs 30 billion) from selling residential apartments in the heart of Mumbai.
The company founded in 1980 by Mangal Prabhat Lodha, an MLA from the Bharatiya Janata Party in Malabar Hill, Mumbai, has always known to take the path less treaded.
After Oberoi, Lodha initiated the method of booking flats by invitation only. This is a smart gimmick to beat the poor response to the steeply priced flats.
Lodha reached out to the suburbs of Mumbai, which later came to be known as metropolitan region even before the region came under the radar of other developers.
Lodha Group set up their camp in Thane, near Mumbai long before the Hirnandanis set their foot.
The group is also among the first to build hi-tech homes, where the owners can control electronic gadgets in the houses through their mobile phones.
While Mangal Prabhat Lodha (53) is the chairman, executive director and promoter of the company, its day-to-day operations are carried out by sons, 31-year-old Abhisheck, who holds a masters degree in industrial engineering from the Georgia Institute of Technology and 29-year-old Abhinandan, deputy managing director, who has done his business administration degree from Cardiff University in UK.
Lodha holds a degree in law from Jaipur University and the fact that he hails from the enterprising Marwari Jain community has helped him establish a lead in politics and business.
About 50 per cent of the major real estate firms in Mumbai are owned by Marwari Jains who have easy access to finance than other businessmen.
The company has seen a rapid growth in terms of profit and manpower in the last three years. Its net profit increased by 26.29 per cent during the fiscal year 2007-08 and 76.78 per cent during 2008-09.
The company's headcount almost doubled in 2009 to 1,236 when it began the process to float an initial public offering (IPO) to raise Rs 2,790 crore (Rs 27.90 billion).
Around 30 projects are being developed by the company in Mumbai, Thane and Hyderabad, some of which commenced in 2006 and is scheduled to be completed by 2013. Surprisingly, among the 20,556 apartments built, only 3459 (16.82%) were sold till September 2009.
With the rise in wealth, the company has also seen a series of litigations. As of September 25, 2009 when the company filed red herring prospectus before the Securities and Exchange Board of India, there was one criminal case (Negotiable Instruments Act) against the company and 301 cases against its subsidiaries.
It has also faced 18 cases of civil nature while its subsidiaries faced 216 cases. Though there are no labour cases against the parent company, its subsidiaries have two cases.
The company and its subsidiaries also face 5 cases in the consumer court filed by disgruntled flat buyers.