The government will next week launch the 9th round of auction under the New Exploration Licensing Policy for the oil and gas sector.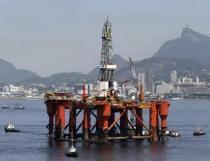 The government is likely to offer about 34 blocks under NELP-IX which will be formally launched on October 15, a senior oil ministry official said.
"Petroleum Minister Murli Deora will lead a pre-launch roadshow in London this week to attract big names to the round," he said.
There will be will be a roadshow in Mumbai on October 18 while international roadshows will be decided later. "Last date for bidding for blocks offered under NELP-IX will be March 18, 2011," he said.
In the eight rounds of NELP since 1999, 235 blocks have been awarded till date. This has resulted in enhancement of exploration coverage from 11 per cent to about 58 per cent of Indian sedimentary basin between 2000 and 2010.
"The discoveries made under the NELP have resulted in in-place hydrocarbon reserve accretion of a staggering 642 million tons of oil and oil equivalent gas," he said. A total of 81 oil and gas discoveries have been made in 23 blocks under NELP during this period.
"With more exploration under progress, more oil and gas discoveries can be expected," the official said. Out of 81 oil and gas discoveries, natural gas production in Reliance Industries eastern offshore KG-D6 block commenced from April 2009.
The 8th round, that closed on October 12, 2009, attracted investment commitment of $1.34 billion in 36 blocks that attracted offers. 70 areas or blocks for exploration were offered in NELP-VIII, the largest licensing round in India.
Of the 36 areas bid for, the government had awarded only 33 blocks to successful bidders. NELP-VIII was launched when the world economies were in recession yet the investment committed was more than $1.7 billion in the 44 blocks that went out, the official said.
The round, he said, fared better than licensing rounds elsewhere in the world where even hydrocarbon rich nations like Brazil and Algeria attracted bids for less than half of the blocks on offer.
The official said unlike NELP-VIII when simultaneously 10 coal bed methane (CBM) blocks for harnessing gas lying below coal seams, were offered, no CBM areas would be offered in the latest round.
The official said the government expects a better response as economic situation has improved tremendously since the last round and international crude oil prices have stabilised in the $70-80 band, a comfort zone for both the producers and consumers of oil.