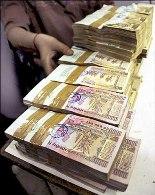 Anil Ambani group's brokerage arm Reliance Securities is planning to invest Rs 300 crore (Rs 3 billion) for upgrading infrastructure, hiring staff and enhancing the capability of its online trading platform.

The company will make this investment over the next 3-5 years with an aim to upgrade the IT infrastructure and to add new features to its trading platform, sources said.

The staff strength at Reliance Securities, a subsidiary of Anil Ambani group's financial services arm Reliance Capital, could grow to 1,400 by the end of next year, from about 800 currently.

When contacted, Reliance Securities Executive Director Vikrant Gugnani said: "We are making substantial investment in our processes, IT infrastructure, reach and headcount to offer the next level of world-class interaction and trading experience to our consumers." He did not elaborate on the investment size, but confirmed the plans for hiring about 600 employees in the coming months.

The move comes at a time when the stock market is on an uptrend and the benchmark Sensex has regained 20,000-point level after a gap of 32 months. The index is moving closer to its all-time peak and investor interest is said to be seeing a revival in both primary and secondary markets.

Sources said that the company was betting big on online trading and was upgrading its IT systems with deployment of Omnesys software solution. They said the roll-out would be completed by month end.

The new system will have ability to process 10,000 orders per minute, which is among the highest in industry. The company would be investing around Rs 300 crore in next 3-5 years in upgrading IT infrastructure, investing in customer centric projects, increasing headcount and enhancing reach.

Besides, it is considering building substantially higher bandwidth capacities for new customers post 3G deployment, which would allow high-speed internet access on mobile phones.

In addition, the company is considering offering customisation at individual customer level and would launch new features to allow multiple trading products with configurable risk rules and also offer ability to charge different margins - by product and instrument type.

It will offer new product features free of charge to its customers. Recently, the brokerage firm's parent company Reliance Capital CEO Sam Ghosh at the company's AGM had said that Reliance Securities achieved a pan-India presence with over 5,000 outlets and the average daily turnover had increased to Rs 2,300 crore (Rs 23 billion).

Ghosh said in a presentation to the shareholders that it has been ranked as best equity broking house by Dun & Bradstreet for two consecutive years and was rated top broking house in India by Starcom.