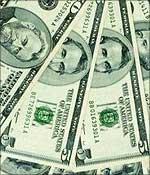 Maintaining their bullish stance for the third month in a row, global fund houses made a net investment of Rs 11,685 crore ($2.5 billion) in Indian equities in August.
As per the data available with capital market regulator Securities and Exchange Board of India, foreign institutional investors purchased shares worth Rs 62,187.50 crore (Rs 621.87 billion), while they offloaded equities worth Rs 50,500.40 crore (Rs 505 billion) during August, resulting in a net investment of Rs 11,687.50 crore (Rs 116.87 billion).
With the August inflow, the total investment made by foreign institutional investors in the local stocks now stands at Rs 60,447 crore ($13.1 billion) so far this year.
Analysts believe that the Indian market is likely to attract more inflow from overseas in medium to long-term investments, as they see higher return from emerging economies.
"FII inflow is likely to be robust in the medium to long-term, as Indian equities are still underowned by foreign investors as compared to their peers in the other emerging markets," Anil Ambani Group's renowned fund manager Madhusudan Kela has said.
The sustained inflow by overseas funds helped the Bombay Stock Exchange benchmark Sensex record a rise of 0.6 per cent in August, though domestic institutional investors (both mutual fund and insurance companies) have been continuous net sellers due to redemption pressure and valuation discomfort.
In June and July, FIIs made a total net investment of Rs 27,125 crore (Rs 271.25 billion). FIIs play a significant role in domestic equity markets and their movement (inflow and outflow) causes fluctuation in benchmark indices.
FIIs had pumped in a record Rs 83,400 crore (Rs 834 billion) in 2009 into the domestic equities, but started exiting in early 2010.
In January, they were net sellers of Rs 500 crore (Rs 5 billion).
But from February, the scenario started changing and they were net buyers of Rs 1,216 crore (Rs 12.16 billion).
In April, FIIs were net purchasers of shares worth Rs 9,361 crore (Rs 93.61 billion), after pumping in Rs 19,928 crore (Rs 199.28 billion) in March.