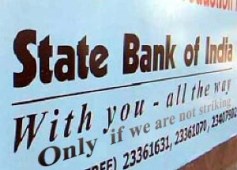 State Bank of India reported on Thursday a 21.54 per cent growth in consolidated net profit to Rs 3,467.09 crore (Rs 34.67 billion) for the first quarter ended June 30, 2010, over the same period last year.
The bank had a net profit of Rs 2,852.45 crore (Rs 28.52 billion) in the year-ago period, SBI said in a filing to the Bombay Stock Exchange.
SBI's total income, however, decreased marginally to Rs 32,808.06 crore (Rs 328.08 billion) in April-June quarter of 2010 from Rs 33,132.7 crore (Rs 331.32 billion) in the same quarter last fiscal.
On a standalone basis, SBI net profit grew 25 per cent to Rs 2,914.2 crore (Rs 29.14 billion) in the first quarter, up from Rs 2,330.37 crore (Rs 23.3 billion) in the year-ago period.
The bank's income increased to Rs 22,142.08 crore (Rs 221.42 billion) in the quarter under review from Rs 21,041.51 crore (Rs 210.41 billion) in the year-ago period.