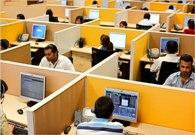 Infosys, the country's second largest software company, on Wednesday expressed concern over the Ohio state government's move to ban IT outsourcing to offshore locations such as India.
Infosys CEO and Managing Director Kris Gopalakrishnan said, "We are concerned about the recent news from US about banning offshore outsourcing by Ohio State government departments.
"Infosys' initiative in the Public Services sector is focused on creating a domestic delivery center in the US hence this should not be affected."