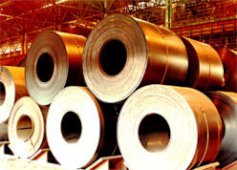 The steel ministry said on Monday it may seek concessions for state-owned firms like SAIL and NMDC from the 26 per cent profit sharing rule, proposed in the draft mining bill, as the public sector units have been fulfilling social obligations for long.


"Some special consideration has to be given to PSUs for the historical role (in social obligations) being undertaken in different parts of the country," Steel Minister Virbhadra Singh said when asked if PSUs would be exempted from the mandatory profit sharing regime being proposed in the new mining bill.


Singh said, however, that he wasn't in favour of complete exemption from the proposed rule for the PSUs.


He was speaking on the sidelines of the inaugural session of International Federation of Consulting Engineers in New Delhi.

Singh's comments come days after a ministerial panel, headed by Finance Minister Pranab Mukherjee, reached a consensus to give the go-ahead to the draft mining bill, which seeks that miners share 26 per cent of profits with local people affected by their mining projects.


The bill has now been sent to the Mines Ministry for fine tuning and the final draft is to be placed before the group of ministers at its next meeting.


The new Bill, likely to be placed in the Winter session of Parliament, seeks to expedite grant of mining rights in a transparent manner and attract big investments in the sector.


SAIL chairman C S Verma had said in Kolkata last week, "Captive mines should be kept out of its (new legislation's) purview. We cannot sell what we mine. It is for our captive use."


SAIL has captive iron ore and coking coal blocks in various parts of the country. Besides SAIL, steel ministry is the administrative head of companies like NMDC, Rashtriya Ispat Nigam Ltd and MOIL.


NMDC is the country's largest iron ore producer, while RINL is a steel manufacturer. The new bill has proposed that a fund -- District Mineral Foundation -- be created and the beneficiaries be paid out from it.


Besides, it proposes that in case of a mine being non-functional or in losses, companies should compensate the people affected by land acquisition by paying them amount equal to the royalty given to state governments.


The royalty paid by mining companies to state governments runs into hundreds of crores of rupees.