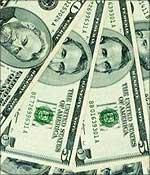 Betting big on the Indian equity markets, foreign fund houses have invested over Rs 71,000 crore ($15.6 billion) so far this year and analysts believe that it will soon breach the record-figure achieved in 2009.


In the last fortnight alone (September 1-17), the foreign institutional investors have made a net buy of whopping Rs 12,442 crore ($2.67 billion) in the Indian stock market, as per the data available with market regulator Securities and Exchange Board of India.


Stock brokers are optimist about the Indian growth story and believe that soon the FII investment in stock markets will cross the last year's record level.


Last year, Indian stock market attracted record inflows of Rs 83,400 crore (Rs 834 billion), a period when the Sensex recored a gain of nearly 80 per cent.


As per the Sebi data, so far in current year, FIIs have made a net investment of Rs 71,824.50 crore (Rs 718.24 billion) in local stocks, while their exposure in debt instrument stands at Rs 42,124.5 crore ($9.1 billion).


The low interest rate regime followed in many advanced economies to avert recession, coupled with better economic performance of emerging markets such as India and China, are keys to attract a chunk of foreign inflows, analysts said.


"FIIs continue to pour money into Indian financial assets amid bright prospects for economic growth and corporate earnings," India Infoline Ltd vice president (research) Amar Ambani said.


"The market is sustaining the rally as inflows from FIIs is coming in relentlessly and in coming days too, this rising spree is likely to continue," Geojit BNP Paribas Research Head Alex Mathews said.


On the back of huge inflows from FIIs, Sensex had been on a rising-spree in recent sessions.


It regained the 19,500-mark this month after a struggle of 32 months.


With such huge inflows from FIIs, marketmen believe the Sensex could reach its record high-level of 21,200 easily in coming period.


The Sensex had hit its lifetime high of 21,206 as on January 10, 2008.


At present, the 30-share benchmark of the Bombay Stock Exchange is already trading at its highest level since January 17, 2008.


In the week gone by, the index recorded a gain of 4.2 per cent and ended at 19,594.75 -- its best close since January 17, 2008.


This weekly gain of 4.2 per cent was the best gain in a week so far in 2010.


"Foreign institutional investors are in a buying spree. If the trend remains the same then we can see the index touching its record level very soon," a broker said.


FIIs play a significant role in domestic equity markets and their movement (inflow and outflow) causes fluctuation in benchmark indices.


After pouring in Rs 83,000 crore (Rs 830 billion) in local markets, these investors began exiting in early 2010 and in January they were net sellers of Rs 500 crore (Rs 5 billion).


But from February, the scenario started changing and they were net buyers of Rs 1,216 crore (Rs 12.16 billion).


In April, FIIs were net purchasers of shares worth Rs 9,361 crore (Rs 93.61 billion), after pumping in Rs 19,928 crore (Rs 199.28 billion) in March.


In June and July, FIIs made a total net investment of Rs 27,125 crore (Rs 271.25 billion).


Maintaining their bullish stance for the third month in a row, global fund houses made a net investment of Rs 11,685 crore ($2.5 billion) in Indian equities in August.