Turning the underprivileged into successful entrepreneurs!
Last updated on: November 17, 2009 09:07 IST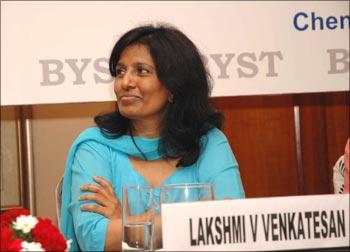 Lakshmi Venktaraman Venkatesan, founding trustee and executive vice president of Bharatiya Yuva Shakti Trust, is the daughter of former President of India, the late R Venkataraman.
The idea behind Bharatiya Yuva Shakti Trust (BYST) is to support 'disadvantaged, young micro-entrepreneurs from the underprivileged background, with mentors, training, networking, marketing and loans'.
Modelled after what the Prince of Wales does in the United Kingdom, BYST came into existence in 1992 and so far it has supported more than 2,000 entrepreneurs from under-privileged backgrounds, made many of them crorepatis (millionaires) and given jobs to more than 25,000 people.
In an interview with rediff.com, Lakshmi V Venkatesan speaks about the ideals behind the trust.
17 years ago, you co-founded Bharatiya Yuva Shakti Trust. What was the inspiration behind its origin?
I was with my father (former President R Venkatarman) on a State visit and we were having one of those formal state lunches and I sat next to the Prince of Wales. He spoke to me about a very interesting programme run by him in the UK.
Later he said, I was telling Lakshmi in a boring way what was happening with my trust, and she found it interesting!
What was exciting about the programme was that they have taken young people who were school dropouts, etc from an underprivileged background, in their context, and made them extremely successful.
Their first millionaire was someone of Indian origin. I then thought: why is it that such success stories were happening elsewhere and not in India?
The legacy left to us by our father was the love to do something for the country.
Once back in India, I was extremely lucky. When I presented the concept to people like JRD Tata, he became my mentor. What I asked for was the essence of their knowledge.
Click on NEXT to read on further. . .
Turning the underprivileged into entrepreneurs!
Last updated on: November 17, 2009 09:07 IST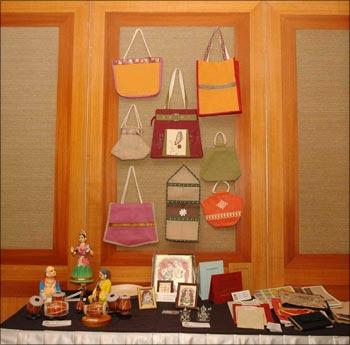 So you look at corporates only as mentors?
Yes, finance is needed but without mentors, it is not just money. More than money what we need is the knowhow.
JRD shared with me how he helped two young people, not even meaning to mentor them. They came with some questions to set up a business. Ten years later, they came and told JRD that because of what he told them informally, their businesses had grown and they were doing so well. He said this is the power of advice.
Is it like hand-holding?
Yes, it is hand-holding, but more than that, too. Literally, there is an emotional, psychological and business bonding between the mentors and the entrepreneurs. That is why we call it the business guru-shishya parampara (teacher-disciple tradition).
The idea is about the way the guru encompasses the entrepreneur. The entrepreneurs are taught how to do good governance, have ethics and values.
It is not just about how to improve your production and increase your sales or how to employ technology. It is more about doing business in an ethical manner.
Right from the beginning you teach that to the entrepreneur. So, that is what is mentoring is all about.
Turning the underprivileged into entrepreneurs!
Last updated on: November 17, 2009 09:07 IST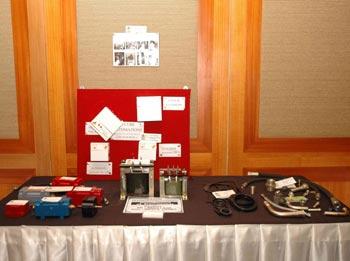 Where did Bharatiya Yuva Shakti Trust start its first project?
We started our first pilot project in Delhi. Our institutional partner was the CII (Confederation of Indian Industry). Tarun Das (former secretary general, CII), with his vision, was the major force to see to it that this trust moved smoothly.
At the time, the model was in operation only in the UK. Nowhere else in the world had it been experimented. We were the first people to take it out of the UK.
We went to grassroots level NGOs, ITIs (Indian Technical Institutes) and polytechnics and chose 25 young people. We had no plans to go to the IITs and IIMs; only ITIs and polytechnics for us.
These people are also brilliant and can become crorepatis, but where will they go to start their ideas and who is there in their circle to advise them? These are two important elements missing. We were very clear; this is about empowerment of the youth of India!
Within the very first year, these people increased their turnover from Rs 50,000 to Rs 5 lakh (Rs 500,000). One of the first entrepreneurs turned a crorepati in 7 years.
Some of the entrepreneurs who got Rs 50,000 from us three years ago have increased their turnover to Rs 8-9 crore (Rs 80-90 million) by now. If it took 7-8 years in the nineties, it takes only less than 3-4 years to make them crorepatis.
Till two years ago, we were giving only Rs 50,000 to start ventures as banks were not willing to give collateral-free loans. Corporates were providing seed capital for these young people.
Turning the underprivileged into entrepreneurs!
Last updated on: November 17, 2009 09:07 IST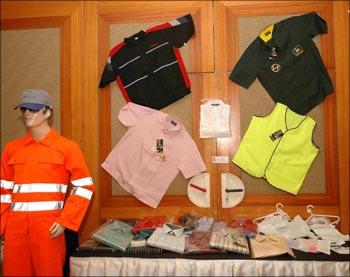 Did you have any difficulty in getting mentors from the corporate sector?
I used to tell Prince Charles that you may get mentors as all of them want to shake hands with you but who will want to shake hands with me? You won't believe, today we have more mentors than entrepreneurs.
It is one thing asking the corporates to plant a tree and distribute clothes. Here we are asking them to transfer the knowledge they have acquired to a young person.
Is it a continuous process for the mentor?
What we said first was, 'please support our entrepreneurs for the first three years.' But many of the mentors and entrepreneurs have developed a relationship that has gone on for more than 10-12 years. It is ongoing.
After Delhi, which was the other place?
Next was Chennai. Then we tried a programme in rural Haryana to see whether it works in rural areas. The problem was that most of the mentors work in larger companies in cities. It is not possible for the entrepreneurs to take half a day off to come to the city to see his mentor as a small entrepreneur acts as everything from the CEO to the peon in his company.
So, what we did was we took a group of mentors in a van to the villages. These visits are there once or twice a month so that they can talk to the entrepreneurs one-on-one. It is not like a classroom; every entrepreneur has his or her guru.
What we did in Haryana was successful and now we have such projects in rural Maharashtra and Tamil Nadu too.
In the last 17 years, how many entrepreneurs might BYST have helped?
We have supported close to 2,000 entrepreneurs. We must have given jobs to 25,000 people. Our aim is to create sustainable entrepreneurs who start at the bottom and grow to the top. For example, a young entrepreneur in Pune, who has won the JRD Tata award, has given jobs to 375 people.
Turning the underprivileged into entrepreneurs!
Last updated on: November 17, 2009 09:07 IST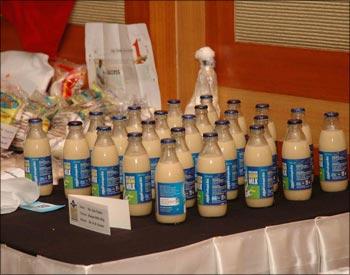 How diverse are the ideas that come to you?
We support anything from handicrafts to high-tech. If an entrepreneur has an original idea, we support him/her.
For example, an eighth standard educated woman in Hyderabad came and told us that she knows how to make murukku and such fried items. When asked what difference she can offer, she talked like a true businesswoman.
We saw in her an energy to succeed. Today, after three years, she employs more than 300 people and her turnover is more than a crore!
How she succeeded so fast was her mentor told her to package it attractively and keep her murukku at petrol bunks where they sold only Lay's potato chips. In no time, she captured all the petrol bunks in that area.
We have also people like Amin Alman, who has worked in a tyre repair shop. Today, he has invented a gas mixture to use in tyre inflators and is about to get a patent. He won the Young Entrepreneur Award in Hong Kong. He has opened an office in Dubai and Saudi Arabia.
What my father did in the 1950s by starting industrial estates in Ambattur and Guindy when such an estate for small scale industries was unheard of in India, we are doing for the 21st century India.
Turning the underprivileged into entrepreneurs!
Last updated on: November 17, 2009 09:07 IST
How important are entrepreneurs for a country's economy?
Today, only 7 per cent of the labour force has jobs in either the government sector or private sector. Out of the 7 per cent, 3 per cent to 4 per cent are in the government sector. Only the remaining are with the private sector.
Almost 93 per cent of India's labour force is either self-employed or part of a 1-2 man company. So, entrepreneurship is the only avenue we have.
Entrepreneurs are the wealth-creators in a country. If you touch the life of one person, it can really transform the lives of a billion people!
Is the programme implemented in any other country now?
It is there in 40 more countries. What we did in India in 1992 has been replicated in 39 other countries. When we succeeded, many countries felt, with its complexities, if India can succeed, we can too. We ourselves have trained entrepreneurs in South Africa, Nepal, Sri Lanka, Indonesia, Kenya, Brazil, Argentina, etc.