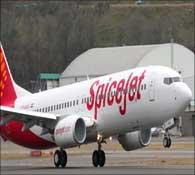 Private airlines, who called off their strike threat after the government contemplated action, continue to argue they backed down because they didn't want to inconvenience passengers, but maintain that their reasons for striking remain as valid today - a very high aviation turbine fuel price and high airport charges in the country.
Much of this is untrue, and what the larger airlines are not saying is that there was a split in the Federation of Indian Airlines - under whose aegis the strike threat was announced - with the budget carriers unwilling to go along with the larger full-service carriers who, incidentally, also offer low-fare services.
Indeed, just how justified the airline grievances are is best brought out by the sharp contrast in the performance levels of the two sets of airlines.
First, not everyone in the aviation business is making losses - it is the full-service carriers who are losing the most.
Kingfisher lost Rs 243 crore (Rs 2.43 billion) in the latest quarter ending June 2009, Jet Airways lost Rs 225 crore (Rs 2.25 billion) while budget carrier SpiceJet made Rs 26 crore (Rs 260 million) of profits. Indeed, as compared to the same period a year ago, Jet's revenue's are down 18 per cent while SpiceJet's are up 15 per cent.
Interestingly, this has taken place while aviation turbine fuel prices in India, though much higher than those internationally, have fallen by almost half - from Rs 71,028 per kilolitre in Delhi in August 2008 to Rs 36,992 in August 2009.
While this happened, Kingfisher's revenues fell slightly, from Rs 1,398 crore (Rs 13.98 billion) in the quarter ended June 2008 to Rs 1,314 crore (Rs 13.14 billion) in the quarter ended June 2009; its losses rose from Rs 158 crore (Rs 1.58 billion) to Rs 243 crore (Rs 2.43 billion) in the same period.
In the case of Jet Airways, while revenues fell 18 per cent, its profits of Rs 143 crore (Rs 1.43 billion) turned into losses of Rs 225 crore (Rs 2.25 billion).
SpiceJet's revenues rose and its losses of Rs 129 crore (Rs 1.29 billion) in the June 2008 quarter got transformed into profits of Rs 26 crore (Rs 260 million). None of this jells with the argument often made by private airline companies - that since aviation fuel comprises around 40 per cent of costs, India's higher aviation fuel costs are the reason for their losses.
Also, airlines like Jet earn around 53 per cent of their revenues from international operations - all international flights get aviation fuel at international prices! In other words, it is difficult to argue that fuel prices are as critical as the airlines make them out to be - it is even more difficult to argue that the airlines were not aware of the differential between Indian and global prices, either when they first entered or when they began their expansion spree.
Of course fuel costs matter, but what matters more is how efficiently the airlines are managing other costs; if the plane is flying anyway, are they getting the maximum number of passengers they can, and so on.
Once again, this is where the budget carriers score over their full-service counterparts. Air India has a passenger load factor of 67.9 per cent, Jet Airways' is around the same and Kingfisher's is 72 per cent - SpiceJet, however, is 77.3, GoAir 85,1 and IndiGo 81.6 per cent (all figures for June 2009).
That is, the budget airlines are getting in more passengers per flight. Since they have lower costs of flying, this means their costs per passenger seat are much lower than those of the full-service airline.
Even more than the passenger load factor, what matters is the number of passengers being flown. At a time when the market has not expanded as fast as the airlines originally expected, what matters is the market share of each airline.
Once again, it is the budget carriers that are doing better. The number of passengers flying on Jet Airways rose from 596,000 in January 2009 to 612,000 in June, but its market share has fallen from 17.9 per cent to 16.6 per cent; Kingfisher's fell from 27.6 per cent to 24.4 per cent; SpiceJet's market share has risen from 11.8 per cent to 12.8 per cent and GoAir's from 2.4 to 5.4 per cent - IndiGo's share has remained constant at around 13.6 per cent.
As a result, SpiceJet's PLF rose from 68.3 per cent to 77.3 per cent, GoAir's from 64 to 85.1 per cent and IndiGo's from 72.2 to 81.6 per cent. PLFs for Air India rose, but by less, from 60.2 per cent to 67.9 per cent, from 64.8 per cent to 67.8 per cent for Jet Airways and from 64 per cent to 72 per cent for Kingfisher.
As a result, SpiceJet has added 20 more flights in existing routes and leveraged the fuel price reduction by cutting fares by around 30 per cent to 40 per cent. SpiceJet has bought three new aircraft this year and there is no change in its original delivery schedule.
Jet Airways, on the other hand, has cut capacity by 20 per cent and deferred eight aircraft deliveries. Kingfisher has deferred the delivery of 32 aircraft and reduced capacity by 26 per cent.
The other bogey, of high airport charges, is not fully true either. Airport charges went up in India after privatisation of major airports, but they're still lower than those in comparable countries.
Typical charges for a Boeing 747 on an international flight are around Rs 277,000 in Delhi and Mumbai - this is higher than Dubai's Rs 188,000 but lower than Changi's Rs 337,000 and Incheon's Rs 406,000. A study by TRL which indexes airport charges to 2005 levels shows that the hike in airport charges in India is among the lowest in the world.
The good news here is that full service carriers are planning to expand their low-cost services. The problem here, though, is that offering lower fares is not the same thing as having low-cost operations.
Will Jet Konnect, for instance, pay its employees the same salaries that low-cost carriers do and will it remove service trollies which add to the fuel-burn in an aircraft?