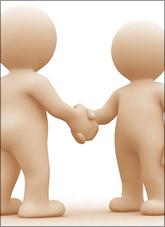 You were always the smart Alec in school, engineering and in B-school. Cheeky, irreverent, playing one upmanship games with classmates, showing disdain for rules, never really collaborating with friends in sports, or in class projects, for that matter.
Indulgent parents never corrected you and teachers were always generous. After all you were the school topper, a great debater, very good in extracurricular activities (of the solo kind) and, therefore, a star.
You continued believing that you were 'right' in a 'wrong' world and the behaviour got institutionalised.
Come campus placement season and you made it to one of the dream jobs coveted by all your batchmates. You sailed through the first few years.
Your bosses found you intelligent, hardworking, and delivering on time and the initial promotions and plum postings followed.
You were possibly one of the youngest middle managers in your company and envy of all your other peers.
Life seemed to be on a roll and you already started harbouring visions of being one of the youngest vice-presidents and possibly a shot at the corner office as well.
The road blocks hit you when you didn't make the grade for the first time -- you are overlooked for the promotion. You blame it on luck and continue in your own ways.
Slowly it sinks in that you are no longer a part of the cross-functional teams where collaborative skills is the key. Attrition of team members working for you is also higher than the company average.
Being a perceptive and an intelligent person, you comprehend that all these events are not happenstance, but possibly signals for you and also lessons as you suddenly find the 'less brilliant' moving forward.
And with apologies to Erma Bombeck, you feel "if life was a bowl of cherries, why am I in the pits?"
You then realise that you are a victim of the 'school skills' syndrome. Academics in India celebrate individual achievement and solo skills like hard work or diligence at the cost of life skills. In the early years of your professional life, too, hard work, results and intelligence powered you ahead.
As you moved up the corporate food chain, you suddenly became aware that the skills you acquired are no longer as important and that some of them are actually working against you.
As you work your way up, a new set of skills like collaboration, teaming, leading and managing others, being sensitive to others' needs, and listening become the key levers for career growth.
The skills that you excelled at during your academics and early career days are taken as given. It's the softer skills that assume greater importance and the elusive skills of leadership decide your fate.
So is the plot lost for you in life now? Not really.
While social- and people-related skills are best ingrained at a younger age, these can also be acquired at a later stage.
Unlike psychomotor skills like swimming, which can be learnt anytime in any frame of mind, here, you will need to condition your mind first.
The first thing to do is to accept the need to change. Behaviour modification is not like swimming or playing table tennis. It needs humility, a willingness to learn and be corrected, and then practise.
While training children to be achievers and toppers, it is also important to build in them life skills. Respect for others, the ability to subsume your own interests at times and work in a team, adherence to norms and procedures, the need to carry people along, these are the skills that will augur well in later day professional life.
Are there lessons for mid-level executives in this? Yes. And, possibly more lessons for parents with young children. The time to act is now.
The author is a senior HR professional with the pharma industry.