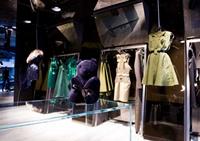 Is India finally ready to defer or even give up indulgence ownership? It would seem that way, going by two high-profile developments in the retail sector over the past month.
At two opposite ends of the price spectrum, savvy businessmen introduced ideas that took their respective target markets several steps closer to their heart's desire. You don't get to own it, mind you-but who cares when you get to flaunt it?
At the lower end of the line was denim major Levi's. In the first scheme of its kind, the brand introduced jeans on EMIs. The pilot project, which rolled out in Bangalore in early August, allows consumers to pay for garments priced Rs 1,500 (and above) over three monthly instalments of Rs 500 (or above) through their credit cards.
The target market, according to company sources, is the section that buys unbranded jeans, usually priced at Rs 500 or less. The logic is clear: If the consumer needs to place on the table the amount he would normally pay for an item of clothing, he will not mind paying that sum twice again over a period of time if it buys him an aspirational item.
By all accounts, the experiment has been a success: The company is looking to go national with the scheme in the near future.
The same logic is twisted a bit for Bagsutra. Very high-end, very exclusive and very secretive, this is India's first bag-rental service. For Rs 10,000 in annual membership fees, you have access to 52 bags a year, at a cost of Rs 1,000-2,000 per bag.
That is not to imply anyone with a spare 10 grand can avail of the service: Membership is by invitation only, prospective sign-ups are screened and need to be recommended by an existing member. The service-available online at www.bagsutra.com   is so paranoid about not revealing details that it's still not clear who actually runs the show.
Oh and the bags? The service assures us that they only stock the hippest international labels, from Bottega Veneta and Chanel to Tod's and Zac Posen.
Off-the-rack prices for these premium designer labels-all the bags are guaranteed to be genuine-start at above Rs 50,000. So the fees work out to be quite reasonable should you be a regular at red-carpet premieres and high-society parties. So far available only in Mumbai, the service plans to be available in Delhi soon.
While the Bagsutra model is a photocopy of popular American businesses like From Bags to Riches and Bag, Borrow or Steal (both of them several years old), the Levis' scheme could actually be interpreted as an honest-to-goodness Indian take on a global trend.
They indicate that the Indian consumer, inured to the concept of mortgage and monthly instalments through big-ticket items like houses and cars, is ready to expand the buy-now-pay-later philosophy to indulgences, rather than restricting it to a few items. In two separate online polls, more than 30 per cent respondents said they would have no issues spending good money to get a trendy bag they would return after use.
If immediate ownership actually ceases to be the mark of success, it could trigger a second retail revolution, this time focused on the higher end of the market. With time, rent-a-Rohit Bal lehenga or borrow-a-Valaya sherwani could become the norm, shorn of the furtiveness currently associated with luxury rentals.
As a certain section of Indian society fine-tunes its predilection for conspicuous consumption, this could well turn out to the cost-effective solution everyone was looking for in a changed economic scenario.
And if your best friend turns up at a wedding reception in a designer outfit you wore two weeks ago, you'll be gracious enough only to comment on how beautiful she looks, please.