In 2008-09, SEZ exports grew 10 times as fast as overall exports - this year, they've risen while overall exports fell, says Aradhana Aggarwal.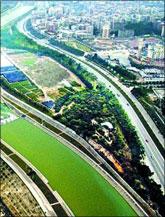 Given the severity of the global crisis, and the collapse of global trade after that, it's hardly surprising that India's exports have also taken a big hit.
For the first time in nearly a decade, merchandise exports recorded a single-digit growth of 3.4 per cent in dollar terms to touch $168.7 billion in 2008-09 over the previous year's $163.1 billion.
Growth for services export also crashed to 12.4 per cent against 22 per cent in 2007-08. Exports for Information Technology (IT) and IT-enabled Services (ITeS) clocked a 14.6 per cent growth, significantly lower than the average of 30 per cent in the previous few years.
In the crisis-ravaged external sector, special economic zones (SEZs) -- the most controversial industrial clusters in the country -- emerged as the only source of solace.
Belying predictions that the crisis would completely derail their future prospects, SEZs registered an impressive growth in export, investment and employment generation. Notwithstanding the fact that SEZs have also been severely affected by the crisis, their exports recorded an increase of 36.4 per cent in dollar terms from $16 billion in 2007-08 to $22 billion in 2008-09.
Of this, $4.63 billion (21 per cent) was accounted for by those 91 SEZs that had been newly notified (notified under the SEZ Act 2005) -- this was 2.7 per cent of the total national merchandise exports.
They bettered their performance in the first half of the current financial year (April-September). While national merchandise exports were down by 28.5 per cent as compared to $108.9 billion during the corresponding period of the previous year, SEZ exports already reached $18.5 billion in this period as against $21.9 billion in the whole of 2008-09.
Interestingly, the operational, notified SEZs, the number of which increased to 101 as on September 30, 2009, accounted for 52.85 per cent ($9.8 billion) of the total SEZs export during this period.
Critics argue that IT/ITeS exports have remained the mainstay of SEZs' export performance, and that these exports would have happened even in the absence of the SEZ policy.
According to them, SEZs' export statistics creates an illusion that it is the SEZ policy that is responsible for the increased exports. However, sectoral disaggregation of SEZ exports does not fully support this argument.
Despite the fact that most newly notified SEZs are in the IT/ITeS sector, trading and manufacturing accounted for almost 50 per cent of their total exports in 2008-09.
In the first half of 2009-10, manufacturing exports from these SEZs increased by almost 500 per cent while IT/ITeS exports exhibited a growth of mere 55 per cent.
As a result, the share of non-IT/ITeS exports in total exports from newly notified SEZs increased further to 66 per cent. Clearly, once economic growth picks up, SEZs are expected to become a hub of manufacturing exports from India.
When DLF sought permission to scrap an IT SEZ near Delhi, many predicted that this was just the beginning and that many more promoters would follow DLF.
However, the prediction proved wrong. As of August 2008, the number of formally- approved SEZs was 577, which stood at 573 as of December 15, 2009. Of the 573 formally-approved SEZs, 347 notified SEZs attracted an investment of Rs 117,223 crore and generated direct employment for 214,724 people.
In a recent study on the economic impact of SEZs, based on field research of the SEZs of eight states, I have found that the upcoming SEZs have the potential of benefiting the economy by promoting new knowledge-intensive industries; augmenting existing industrial clusters/industrial states; diversifying the local industrial base and localising global value chain.
However, as expected, these benefits are not evenly spread. Only five states -- Gujarat, Andhra Pradesh, Karnataka, Maharashtra and Tamil Nadu -- seem to have benefited by the policy due to their political will of diversifying their economies.
They alone accounted for almost 96 per cent of exports in 2008-09. Jamnagar, Mundra, Ahmedabad Apparel and Essar Hazira in Gujarat; Biocon Limited and Suzlon Infrastructure in Karnataka; Fab city, Divi's lab, Apache and Brandix in Andhra Pradesh; SIPCOT, Cheyyar and Flextronix in Tamil Nadu and Moser Baer in UP are some of the examples of highly successful non-IT/ITes zones that contributed significantly not just to augment exports but also to diversify them.
India was the first country to have set up its export-processing zones. It was followed by Taiwan, Korea, Malaysia and China.
While India failed to capitalise on the first-comer advantage due to an extremely cautious approach and a lack of well-defined strategy, SEZs played a defining role in creating conditions for rapid industrialisation in all these countries. Though there were some success stories in India, the impact was minuscule at the macro level.
Inspired by the Chinese success, in 2000, the EPZ scheme was upgraded to the SEZ policy through a revision in the Export-Import Policy 1997-2002. Though the new SEZ policy introduced some basic changes in the earlier policy, response to these changes was not encouraging.
With a view to instilling confidence in investors, the SEZ Act was enacted in 2005. But the SEZ saga soon went sour with a fierce nationwide debate over the usefulness of SEZs.
It touched upon almost every aspect of SEZs from social issues, like land acquisition, labour rights and environmental protection, to economic issues, like their impact on government revenue, equity, employment, trade and foreign exchange earnings.
However, the story did not end there. In 2008, the global economic crisis hit the world. This was the acid test for SEZs. We need to evaluate the performance of SEZs against this backdrop.
Braving these controversies and several adverse policy decisions, SEZs have played a very important role in promoting and diversifying exports, and have proved that they are not in such a desperate state as has been predicted by doomsayers.
The author is Associate Professor, Department of Business Economics, University of Delhi.