During his tenure he brought home some major goodies that will have a great long-term impact on the company's future, writes S Kalyana Ramanathan.
David Smith, 49, is unlikely to remember January 25 fondly. It was the day he stepped down as CEO of Tata Motors' owned Jaguar Land Rover and surprised anyone following the Midland-based car maker's progress through its most difficult times in recent history.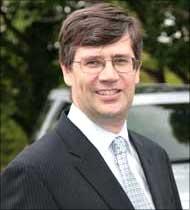 Smith's abrupt departure was matched only by his equally unforeseen elevation to the post when his predecessor Geoff Polites died in May 2008. Over the next year and half, until he resigned without any officially stated reason, Smith steered JLR through some very tough times.
There is a general agreement among industry observers that CEO exits need not be always ceremonious. But in Smith's case the timing caught everyone by surprise. He could have stayed until he saw the company's bottomline back in the black.
Some believe that Smith's forte in finance also became his nemesis, at least in JLR. Seasoned industry colleagues cautiously guess that JLR, having managed to tidy up its finances in the past few months, is now in need of a head who can manage its production and, more importantly, marketing. Smith's resume does not say much on these accounts. He has worked within the Ford group since 1983 and was in finance and strategy for a good part. Before his promotion to the CEO's office he was finance director.
Nevertheless, Smith's short tenure as CEO of JLR has been eventful. The year and half ending December 2009 was financially the most challenging time for JLR since the global economy went into recession, with luxury and premium car makers suffering more than their fair share of agony.
From a profitable company (when Ford sold it to Tata) JLR became a loss maker, pulling down Tata Motors' balance sheet as well. Money was drying up and the company was badly in need of funds.
A pound 340 million loan from European Investment Bank fell through as the UK government demanded its pound of flesh to provide its guarantee. Smith stood his ground and refused to deal with the government on any terms other than regular commercial terms. His financial acumen was put to its most difficult test when he helped JLR emerge from the abyss, clutching pound 670 million loans from private banking sources in India and Europe.
Smith also managed to engage the unions in constructive discussions until the final rounds of talks earlier this month broke down. During his tenure he brought home some major goodies that will have a great long-term impact on the company's future.
A pay freeze, plans to close one of its three major plants by 2015 and plans to step up productivity without major increase in work force were some of the notable achievements. All this when voluntary job cuts (as opposed to compulsory redundancies) will continue in the background leading to the possibility of a lower work force in the coming years.
On January 25, JLR announced that its latest talks with the unions had broken down as both sides disagreed on issues surrounding minimum wage levels for fresh recruits and pensions.
A few hours later, JLR also announced Smith's resignation, forcing local media to link the two events. Company insiders, however, disagree. The unions considered him a fair man, always open, accessible to any colleague with genuine concerns, and most importantly transparent. Some believe that despite his short tenure, Smith "book-ended" a significant phase in JLR's history with his ability to shore up funds to secure the company's future.
His next career move is not known yet. Some believe, he might have received a call from the mother ship and could be going back to Ford.
For now, JLR's day-to-day affairs will be managed by Tata Motors' vice-chairman Ravi Kant. Until Tata Motor's finds Smith's permanent replacement it would be fair to say that the Tata's stated policy of maintaining an arm's-length distance from JLR's day-to-day management just got a bit shorter. After all Kant, unlike Solihull-born (Land Rover's home) David Smith, is not from UK's Midlands.