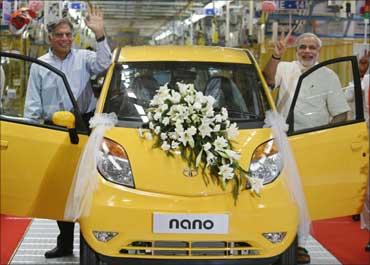 Think of German cars and what comes to mind? Technologically accomplished, luxurious and of course, pricey. American cars are always meant to be behemoths that drink copious amounts of fuel.
Similarly, think of Japanese cars and you get images of reliable, economical, refined runabouts that are not really exciting to drive.
Korean? Value for money cars with extended warranties and a good track record over the last decade.
Chinese cars, till recently, meant copycat designs with questionable reliability, but most of us know that they have moved on in life and have become a force to be reckoned with.
Now close your eyes and think of an Indian car. 'Maruti 800' may flash through the minds of Indians but today, around the world, the words 'Indian car' conjure up images of a tiny oddball in bright yellow - the Tata Nano. Now, is that a good thing or what?
Honestly speaking, the Nano image is not all that bad, though it does not make a passion statement like Ferrari does for Italy.
The Nano has taken the world by storm with its simplicity, tactful engineering and the mere fact that such an audacious project could be done in a developing economy.
The early Honda Civic and Accord and the Toyota Corolla and Camry laid the foundation for the Japanese in high-volume markets. They were reliable to a fault, practical and held value even in the used car market.
They attained the status of 'student cars' after their first lives and left lasting impressions on these prospective new car buyers. Unsurprisingly, both the Accord and the Camry have been the largest-selling cars in the US for a very long time.
Similarly, the early Ponys and Sonatas are working hard to establish the image of Hyundai and that too with a degree of success.
Can the Nano do the same for Tata Motors and India?
The find!
The other day, I was on one of my regular rides when I spotted her. Amongst a heap of scrap metal and old motorcycles was a distinct engine cover of a Moto Guzzi!
As far as junk discoveries go, it's like finding a Ferrari in a taxi heap in suburban Mumbai. The 650 cc V-twin was made in 1984 and was in a bad shape. The mechanic at the garage said that the bike was sold for a lakh of rupees to a buyer.
Not losing hope, I am trying to trace the real owner of this machine - if not to buy this piece of exotica, then find out the reason for importing and then losing interest in a Guzzi. Will keep you posted.
Indovation!
Image: Ratan Tata (L), chairman of the Tata Group, and Gujarat's chief minister Narendra Modi wave as they stand beside the Tata Nano car during the inauguration ceremony of a new plant at Sanand.
Photograph: Amit Dave/Reuters