So-called 'silent' periods of listed companies usually end without even a whimper. But in the case of SKS Microfinance, the country's largest micro-finance institution (MFI), it ended with a bang.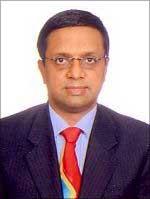 Exactly a week after emerging from its 40-day post-listing silent period, the SKS board sat down on Sunday, October 3 to discuss the fate of CEO Suresh Gurumani.

The meeting adjourned and reconvened on Monday morning. At the end of the meeting, it was announced that Gurumani had been sacked with immediate effect without citing any specific reason. And SKS found itself in an all-too-familiar place: the centre of a controversy.

The latest episode marks the second dismissal of the CEO of an Indian company in less than three weeks - very unusual for a business culture that baulks at unseemly spectacles involving top management.

Late last month, Jindal Drilling, a part of the D P Jindal group, fired CEO Naresh Kumar after "losing confidence" in him.

"What we are witnessing reminds me of a Greek play. I only hope it doesn't end in a tragedy," says Vijay Mahajan, who is a long-time acquaintance of SKS founder Vikram Akula and has also worked closely with Gurumani in setting up industry lobby Microfinance Industry Network.

Former colleagues describe Gurumani as an extremely sales- and target-focused person, with a thorough understanding of banking. He spent 12 years at Standard Chartered Bank in a variety of disciplines before moving to Indiabulls Financial Services.

After a short stint there, the University of Madras graduate quit to head the Barclays fledgling retail banking business in the country.

In December 2008, he moved to SKS as the new CEO. That Gurumani and Akula did not see eye-to-eye on numerous issues was well-known. But few had anticipated that Gurumani would leave SKS in such acrimonious circumstances. Five days after the incident, few details have emerged and Gurumani remains elusive.

The Wall Street Journal reported that Gururmani was ousted for trying to put in place systems and practices that were deemed too expensive by the board.

"Where I see the problem is that there is a lot of insecurity, where the founders of the company don't want to give control to professionals," Gurumani was quoted as saying.

However, few in the financial services industry believe this is the complete story. When news of Gurumani's firing became public, rumour mills churned out the theory that it was because there were disagreements on his severance package, mainly stock options. The issue of stock options remains a thorny subject for SKS and the microfinance industry.

Initial investors in SKS, including Akula, and other top managers including Gurumani have been roundly criticised for booking eye-popping profits on share sales of exercised options.

"The issue of institutional incentives involves the whole industry, and not just one company or a few individuals," says Mahajan.
Industry insiders say, with the benefit of hindsight, that SKS's decision to oust Gurumani was well-calculated and the firm had already started moving its pieces in place to prepare for his impending exit.

On September 7, SKS announced that chairman Akula would be donning the garb of executive chairman while chief operating officer B R Rao would be elevated to deputy CEO. Clearly, it's curtains at SKS for Gurumani.