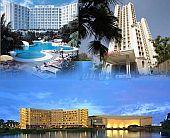 Things are beginning to look better for the hospitality industry across India, with an increase in occupancy levels to 10-30 per cent and hotel rates getting closer to the pre-recession ones.
Says Nandkishore Somani, executive assistant manager, Sun-n-Sand: "Occupancy levels have increased to almost 50-60 per cent in our Mumbai and Pune hotels, as the recession effect is loosening over the market and companies are not cutting on travel like before. This is why we can now think of revising the tariffs to the rates we used to quote before the economic slowdown."
Signs of recovery in the market have brought in good expectations for next year, also thanks to the ongoing wedding and festive season, as well as the coming Commonwealth Games. Till a month earlier, hotels were busy working out discounted rates, tailormade packages and budget packages; now, company and individual bookings have started ringing in.
Said a source from the Leela Group of Hotels: "Earlier, the condition was not looking good due to security issues and the economic slowdown. But now, across our hotels we are enjoying close to 80-90 per cent occupancy. We are booked around 90 per cent in Goa and Kerala, and 80 per cent in Gurgaon, Bangalore and Mumbai for this season." The new year will see this chain opening two new hotels, in Delhi and in Chennai.
Is this trend here to stay? Kamlesh Barot, senior vice-president, Hotel and Restaurant Association (Western India) sounds optimistic. "Hotels across the country are enjoying occupancy levels at around 70 per cent on an average, a dip of only about 10 per cent compared to pre-recession time. This revival is due to the festive season, which will push growth and stabilise the situation, post this peak season."
The Pride Hotels has seen a steady increase in occupancy levels in properties across cities like Ahmedabad, Bangalore, Chennai and Pune, by close to 20 per cent. Managing Director S P Jain says they are now witnessing 70 per cent occupancy in their hotels.
Then came November and more enquiries started turning into business opportunities. Pune district witnessed an average of 60 to 65 per cent occupancy in the last month, according to General Manager Deepak Manocha from the seven-month-old Courtyard by Marriott (CBM), Pune. The outbreak of H1N1, the Mumbai terror attacks and the economic slowdown seemed to be the only hurdles.
But, as the world watches the economy of Dubai almost on the verge of a breakdown, some hoteliers are feeling the tremors here. Says Vinay Phadnis, chairman and managing director, Sahil Group, which has properties like Radisson Resort & Spa, Alibaug, and Sahil Sarovar Portico in Lonavala: "These are acting as spoilers for us. Whatever is happening in Dubai will have an impact on our business, because there will again be a cash crunch in the market. But, the immediate future looks all right."
Abhijit Chitnis, director of sales, CBM, thinks otherwise. "Pre-recession rates will never come back. There will be a correction in rates," he says, and adds, "Though business is coming back to normal, this phase will also see the addition of significant inventory in markets, which will put pressure on occupancies."