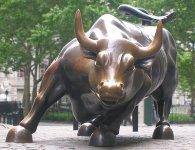 Consider this: The equity markets have recovered sharply since March this year and are bullish. And the current trend of upward rally in the markets looks like a perfect setting for buying these growth stocks!
Great! But on the flipside some experts feel that the markets have already run up a lot and there's an increasing downside risk associated with growth stocks.
So it is always better to buy dividend paying stocks or hold on to them if you had already bought them. The logic behind this is that you at least get the dividends even if the market prices of these stocks fall.
So what should you exactly do? Buy dividend stocks or growth stocks? Whatever it is you should first check out the market conditions before you decide to take the plunge.
What are dividend stocks?
Usually, companies issuing dividend stocks that yield high dividends are sound, have high cash reserves and do not depend on large capital investments for their growth.
Hence, the growth of these companies is steady and exposed to only very low downside risk.
You can buy dividend stocks if your risk appetite is low and you want a regular stream of income. For example, historical data shows that till March this year, the markets witnessed a slump in the stock prices thanks to the global economic slowdown.
This pushed up the dividend yields and consequently the demand for dividend paying stocks among the investors.
Further, the prospects of getting at least the dividends even when the markets are in red proves to be a convincing point for the investors to choose high dividend paying stocks in place of growth oriented stocks.
What are growth stocks?
Growth stocks are for those aggressive investors who have a higher risk appetite. Growth stocks are considered more lucrative when the markets are enjoying an upward rally.
For instance, the last six months has been good for the equity markets pushing up the demand for growth stocks. The Sensex has grown by leaps and bounds adding nearly 100 percent to its value since March. It has gone to breach the 17,000 points mark. Some experts feel that growth stocks could give better returns during such buoyant market conditions.
Difference between dividend stocks and growth stocks
Growth stocks are better for aggressive investors hoping for better returns in the long run whereas dividend stocks are for the safe ones as these stocks have limited downside risks and ensure a regular flow of income.
That said the decision to go for dividend stocks should be backed by a careful analysis of the basic strengths of these stocks, the present performances and future prospects and the history of dividend yields and dates. Also, historical data has shown that investing in high dividend stocks has been successful for long-term investors.
Strategy to balance the two
Some experts suggest that the investors can adopt a strategy wherein he can capitalise on the current market rally that is likely to continue for some more time and book profits on counters that could give between 15 to 25 percent returns and slowly shift to high growth stocks later.
There is also a contra suggestion from another section of experts who suggest building a mixed portfolio of 40 percent growth stocks and 60 percent dividend stocks so as to get the best of both worlds.
Sectors like cement, banking and others are safe bets considering the fiscal year 2011 forward price to earnings ratio or simply P/E. Also, the present healthy market conditions since March this year has been mainly due to the performances of sectors like automobiles, banks, FMCG, healthcare, metals and IT.
However, the markets have seen underperformances from sectors like capital goods, oil gas, realty and other infrastructure related sectors.
When should you buy both these types of stocks?
There are mixed suggestions from experts about buying dividend stocks in the present market scenario.
Some experts feel that the valuations has gone too far due to the abundant FII inflows and hint at waiting for a correction in the Sensex up to 600-800 points. However, there is another opinion that endorses dividend stocks for their low downside risks and regular income stream.
Mutual funds work in a different way and choosing dividend or growth options do not necessarily signify that the mutual fund will invest accordingly.
Choosing to invest in dividend stocks will yield regular inflows of money while investing in growth option will get the investor a lump sum amount on the sale of units. However, the returns will be similar in both the stocks.
Hence, the risk appetite of the investor and his investment goal will alone should be left to decide on choosing the right investment option.