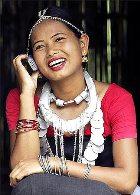 In the last decade, telecom has become one of the fastest growing sectors.
The so-called 'mobile revolution' has already taken the country by storm. And with growth rates of 54 per cent in 2009 (calendar year) and 48 per cent in 2008, the prospects of the industry is certainly on the upside.
At present, there are 563 million mobile connections and a tele-density of 51 per cent. In fact, India has more mobiles than toilets, as reported by a United Nations study.
The auction for 3G or third-generation spectrum opened last week. And it is expected to give further fillip to the industry because of enhanced data services. 
There are about 14 telecom service providers in the country. Among these, Bharti Airtel, Reliance Communications, Idea Cellular, Tata Teleservices Maharashtra, MTNL and HFCL Infotel are listed on the stock exchanges. Reliance Infratel is mulling an IPO, and has filed its Draft Red Herring Prospectur (DRHP).
Though the sector is known for its rapid growth, it is not the one for quick money. It is a capital intensive sector where companies need to invest in network infrastructure, distribution set-up and license fees.
Besides, given the heavy competition, there has to be continuous spends on marketing and advertising. Estimates suggest that it takes at least six years for a telecom company to breakeven. While looking for stocks in this sector, there are a few key factors that one should be aware of.
Government role: The government's policy, as it owns the spectrum, is of huge importance. At present, if an operator gets Unified Access Service License (UASL) licence, it comes bundled with spectrum. If the government demerges spectrum from UASL license, it will become market priced, making it more expensive.
In addition to UASL licence, telecom companies need two other licences like ISD/NLD licence to allow national long distance calls and international calls as a part of their service. Operators who provide internet on their mobile phones also need an Internet Service Provider (ISP) licence.
But there are two numbers that one should pay attention to, but not base their investment on. 
Bogey 1 - Subscriber base: Though, the easiest way of gauging a telecom company's performance should be the number of subscribers, analysts felt otherwise. This is because new players are entering the market, which are solely focussed on creating a subscriber base, rather than revenues.  
Look at - Revenue market share: Analysts said that revenue market share is more important. "Revenue market share denotes profitability, quality and quantity of subscribers," says Sushil Sharma, Analyst, BRICS Securities.
According to him, over the long-term, if quality of the service is good, many other factors come into play like a good infrastructure, technical strength, good business practices and quality of subscribers. In other words, this number reflects the strengths of the company. Ideally, a good company would have a healthy mix of both - a good subscriber and revenue market share growth.
Bogey 2 - Minutes of usage: While a company might report a good deal of increase in minutes of usage, it does not mean that the company is making profits. Minutes of usage does not account for the tariff charged and the incoming calls that a subscriber might get.
Look at - Average realisation per minute: Analysts suggested that investors should check on average realisations per minute. This number gives an indication about the company's earnings on every minute of conversation.
Operational cost: An investor should be looking at operational costs as well. Given that a lot of infrastructure is required, these costs are a major drain on finances. "Telecom companies don't have control on 70 per cent of the network operations cost. These include power, fuel and rentals they have to pay for telecom towers. Higher diesel costs mean addition to network operation costs," says Nishna Biyani, Analyst, Prabhudas Liladher.
Investors in this sector should remember that though the auctioning for 3G spectrum has begun, there would quite some time before companies in this sector would actually start making some serious money. Market experts felt that serious investors should have a minimum horizon of two-three years. Otherwise, it's a trader's delight.