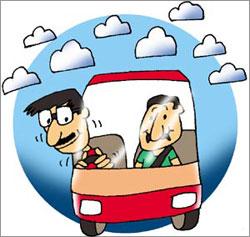 With Budget announcements coming up this week, more industries have come up with their wish list. We expect the government to continue its focus on nation building areas like infrastructure, agriculture and social sectors. We present the wish list of companies across sectors.
Auto: Auto industry witnessed an excellent 2009 with strong growth in volume sales. Stimulus package offered by the government also played a key role. While rising raw material costs is a worry, the players expect the government to not make any negative announcement.
The wishlist
The companies want the continuation of stimulus package. Last year, excise duty on small cars, two-wheelers and was cut to 8% from 14%, as part of fiscal stimulus. However, we think that there would be partial roll back of the excise duty as the auto sales have been strong. This would be negative for the sector.
Increased allocation to JNNURM Scheme for public transport.
Remove differential excise duty between small and large cars. With countries focusing more on climate changes, the government is promoting fuel efficient vehicles. This has benefitted the small cars.
Pharma: The sector has seen strong growth on the domestic front. However, export sales have seen some slowdown.
Recently, the industry is facing several challenges like domestic pricing pressure and pressure on finding and developing new molecules. Focus on R&D is required.
Increase in weighted average exemption from 150% of R&D spend to 200%. This would encourage new drug development.
Export-oriented units will lose their tax benefit in FY11. The companies want the extension of EOU tax exemption further. Also more clarity on the impact of new direct tax code on SEZs is required.
To exempt selected imported life saving drugs from customs duty.
The sector wants the excise duty on formulations covered by state excise to be bought down to 8% from 16% as it can affect prices and thereby the volumes.
Capital goods: With government's thrust on infrastructure expected to continue, this sector may see some good announcement. The companies have the following wishes.
No increase in excise duty from current 8%.
Availability of long tenure funds. The sector wants the government to set up an infrastructure debt fund to get access to funds at a faster pace.
10% customs duty on import of power plant equipment for both, the projects awarded through the international competitive bidding route and mega power plants. This will provide a level playing field for domestic segment against imports.
Cement: Cement sector is expected to see good demand on account of infrastructure sector and low cost housing demand. However, realisations would see some pressure on account of higher supply due to incremental supplies. The companies have listed their wishlist for the coming budget
Cement sector has been enjoying the benefits of 8% excise duty since last year. The companies are hoping that the excise duty would be kept at current levels as any increase would make it difficult to pass the hike in prices to the consumers due to new supply.
Abolish import duty on coal and pet coke as against 5%currently. The abolition of import duty would reduce the operational cost for the cement industry.
Telecom: It is one of the fastest growing sectors in India. India has the second largest telecom user base in the world. However, the companies are recently witnessing intense competition leading to a price war.
The increasing proliferation of dual SIM cards in the market is also leading to subscribers shifting their operators from time to time. While urban areas have nearly saturated, the companies are banking on rural areas and overseas for the growth.
The companies are also looking at new avenues like data-based services to sustain margins. Mobile Number Portability is expected to become a reality soon. However, the auction process for 3G spectrum has been delayed to FY11.
Extension of 100% tax exemption benefits under section 80IA.
Nearly 30% of consumer's bill goes towards various taxes and levies service tax, licence fees etc. This needs urgent attention to make telecom services more affordable.
Further, implementation of uniform license fee regime is also needed. Currently, telcos pay licence fees ranging between 6-10% based on the circle category. Reduction in this would reduce costs, thus passing the benefits to the users. However, this seems unlikely to happen in the budget.
More clarity on the date and auction price of 3G spectrum is required.
IT services: The sector has seen signs of revival over the last couple of quarters after witnessing a tough FY09. The companies expect the Budget to focus on maintaining an environment conducive to the future growth.
Tax exemption U/S 10A/10B to STPI limits: The companies want a further extension for the Software Technology Parks of India (STPI) scheme by at least a year. The industry has just recovered from a severe global recession and the exemption would improve their cash flows. The companies also want the abolishment of MAT on STPI units.
Clarification on full exemption of profits from SEZs.
Media: While the sector witnessed lower ad revenues on account of the economic slowdown last fiscal, some pick up have been witnessed in recent times. From a longer-term perspective, greater spending power, demographics, rising consumerism and robust economic growth will bide well for the sector.
Relaxation of FDI norms required in cable distribution, print media, radio and news broadcasting. This could bring more foreign investments.
Currently import duty is charged on set- top boxes. If removed, this can benefit the consumers.