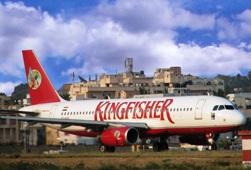 Private carrier Kingfisher Airlines said on Thursday its net loss for the third quarter ended December 31, 2009 has widened to Rs 419.96 crore (Rs 4.19 billion).
The company had a net loss (loss from ordinary activities after tax) of Rs 413.39 crore (Rs 4.13 billion) for the quarter ended December 2008, Kingfisher Airlines said in a filing to the Bombay Stock Exchange.
The Vijay Mallya-promoted private airline also reported a decline in its income from operations at Rs 1,352.45 crore (Rs 13.52 billion) for the December quarter, from Rs 1,447.83 crore (Rs 14.47 billion) in the same period previous fiscal.
For the nine-month ended December 31, the company has posted a net loss of Rs 1,075.32 crore (Rs 10.75 billion), while it had a net loss of Rs 1,054.51 crore (Rs 10.54 billion) in the same quarter last fiscal.
Shares of Kingfisher Airlines were trading at Rs 60.95 on the BSE, down 2.56 per cent from its previous close.