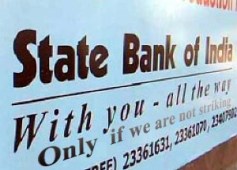 The Reserve Bank of India has done the right thing by hiking the cash reserve ratio by 0.75 per cent to 5.75 per cent, a top banker said.
"Today, there is so much liquidity in the system (that) it is distorting the interest rate curve and large corporates are able to raise funds at very low rates. I think what the RBI has done is excellent," State Bank of India's chairman, O P Bhatt, told reporters in Mumbai on Friday.
The RBI, had, earlier in the day, hiked CRR by 0.75 per cent in two tranches, a move, it said, would help flush-out Rs 36,000 crore (Rs 360 billion) from the system.
"The policy is neutral in the sense of raising interest rates on bank credit over a period of six-months," Bhatt said.
Describing the present period as a difficult one for the economy, Bhatt said, "There is still uncertainty on whether the growth that we are seeing is because of the (government's) stimulus packages or because of genuine underlying demand."
The monetary easing that had taken place in the past could not be there permanently as in the long-term it would cause a lot of damage, he said.
"What has been done by the RBI is probably the best under the circumstances," the SBI chairman said.
The CRR hike would not have any impact on SBI and its borrowers, Bhatt said.
"We have got so much liquidity that it doesn't impact us at all in terms of there being any upward pressure on interest rates for our borrowers. In the next six-months or so, we don't expect our rates to change," Bhatt said.
There might not be either an upward or downward movement in deposit rates in the immediate horizon, he added.