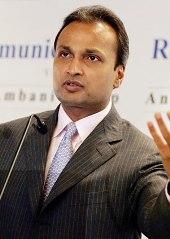 Industrialist Anil Ambani visited the Mahakaleshwar temple in Ujjain on Friday on the occasion of his 51st birthday.
Ambani, who arrived at Indore in his private jet along with his son on Thursday night, later drove down to the temple to participate in the bhasma aarti, sources said.
During the bhasma aarti, a ritual that is performed at 4 in the morning, the deity -- Lord Mahakal -- is smeared with ashes brought from the cremation ground.
After participating in the hour-long aarti, Anil and his entourage left for Indore around 6 am.
Image: Anil Ambani