The country has become the largest recipient of the World Bank loans with over $9 billion worth assistance this fiscal ending June 2010, up fourfold over the previous fiscal.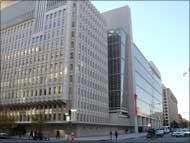 The Washington-based multilateral lender had extended only $2.2 billion loan to the country for the year ended June 2009.
India's share among the various recipients of the Bank is 15 per cent in terms of loans, followed by Mexico with 11 per cent and South Africa with 7 per cent as of June 20, 2010.
As of June 20, the Bank has lent $9.26 billion to India and is expected to provide another $0.04 billion in the remaining period of June. The Bank follows a fiscal year from July to June.
The bank's total lending to India will touch $9.3 billion by the end of June and a similar amount is expected in the next financial year beginning July 2010.
"We are working on a number of projects, which if you add them up, would roughly amount to the same amount of lending (in the next fiscal)," World Bank country director for India Roberto Zagha said after announcing the 2009-10 numbers in the Capital today.
The support would be for transformative projects, including the Kosi flood recovery project and cleaning up the Ganges. Besides, the Bank also expects huge funding opportunity in the infrastructure sector, including the proposed dedicated freight corridor project.
During this fiscal, the Bank has given aid of about $3 billion to the infrastructure sector, he added. The total expected lending this year includes $2.6 billion as interest-free credits from the International Development Association and $6.7 billion in the form of long-term, low interest loans from the International Bank of Reconstruction and Development, he further said.
As part of the overall lending, the bank also has earmarked $3 billion to support the country's domestic response to the global financial crisis. This included a $2-billion package for government of India to provide capital to some of the public sector banks so that they could maintain their credit expansion and prevent a shortfall of capital from affecting the economy in the wake of the global economic crisis, he said.
Last September, the Bank had also enhanced the lending amount for two major infrastructure projects by providing an additional $400 million to PowerGrid and $600 million to the Indian Infrastructure Finance Corporation to help them maintain their planned investments during the global financial meltdown.