The nation's largest lender State Bank of India on Monday said it will set the base rate at 8 per cent or even below it.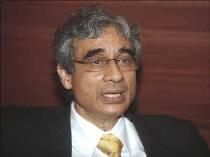 "The base rate will not be more than 8 per cent--it will be 8 per cent or below," chairman OP Bhatt told reporters here.
The Reserve Bank has set July 1 as the date from which the base rate regime (for leading) will come into effect.
Through the base rate regime, the RBI seeks to make banks stick to a declared lending rate, below which no bank can lend, with a view to bring about more transparency in the lending regime. Bhatt further said that he does not expect the bank's lending to be affected by the base rate regime.
"We are adequately positioned to do business in the new regime," Bhatt said. On the liquidity position of the bank, Bhatt said it is still borrowing from the market. Asked if SBI is contemplating a revision in its deposit rates, the chairman said the bank will take a call on the issue after the monetary policy review scheduled for July 27.
Although there is some stress on the loans given to the aviation sector, there is now a pick-up and the business of airlines has improved in recent times, the SBI chairman said, hinting that there may not be a major problem in loan repayment by airlines.
On the teaser rate home-loans, he said the bank will also take a call on the continuation of its special home-loans scheme at the end of the month.