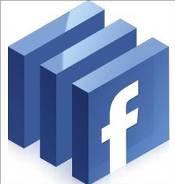 Social networking site Facebook will be launching its India operations from Hyderabad - its first office in Asia - within two months from now. A proposal to this effect was cleared by the government on Saturday.
Facebook's new centre in Hyderabad will come up at the Raheja Mindspace special economic zone (SEZ), and will supplement operations supported out of Palo Alto, California, Dublin, Ireland and Texas.
In a press release on Sunday, the state information technology and communications (ICT) department said about 5 IT companies had been accorded permission by the unit committee meeting of the development commissioner, AP IT SEZs, to set up their offices in a total area of 391,000 sft in different SEZs. Prominent among these are Facebook India Online Services Private Limited, Accenture and Invesco.
"Vijayawada is being preferred as an alternative Tier-II IT destination in view of its strategic location. An IT SEZ in an area of 30 acre with 200,000 sft has been developed in Vijayawada by the Andhra Pradesh Industrial Infrastructure Corporation (APIIC), in association with L&T Info City, which is ready for occupation. The approval committee gave its go-ahead to four companies - Tektraks, Exranet Software Solutions, Indermax and Galla IT Services – to set up their operations at the IT SEZ," the release added.