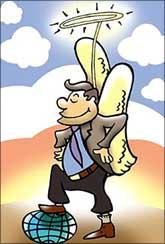 Which segment of Indian citizens has emerged the winner post-Budget 2010?
Reality television shows have become a big part and parcel of Indian television as well as Indian society. Shows where you get to answer questions and become an overnight crorepati (millionaire), there's even one where you just need to say 'deal' or no deal' and could walk away with Rs 50 lakh (Rs 5 million).
To be honest, at times these shows lose the 'real' effect and start looking 'surreal'. One such 'reality show' is the annual financial exercise of the government of India. The one chance for the finance minister to take centrestage: the Union Budget. Like all shows, the Budget too has winners and losers.
Of course, over the last 76 episodes of this show (76 Budgets have been presented since the first one was presented by Shamukham Chetty in 1947), the Budget has become a boring affair for many.
So, here we take a look at the numbers post-Budget 2010 and compare them with the tax laws prevailing in 2009-2010 to see which part of the Indian junta will laugh its way to the bank in 2010-11.
There have been countless discussions on how the Budget is pro-middle-middle class (the repetition of middle is intentional to define a new creed: the people in the Rs 4 lakh to Rs 8 lakh taxable income).
Let's look at actual numbers to see how much you and me stand to save post Budget 2010-11 vis-a-vis 2009-10.
A very simple way to do this is to compare the income tax payable by us for 2009-10 and for 2010-11.
For Men
Men earning up to Rs 300,000 will not have any change whatsoever in their income tax payment. They would be paying the same tax as before.
Similarly, anyone with a taxable income above Rs 400 crore (Rs 4 billion) would be paying the same tax too! (Although I do not know how many Indians would figure in that category, if at all there is someone!) We can thus safely assume that all men with income above Rs 300,000 will be paying lesser tax for the period 2010-11, all other factors or things remaining the same.
Now who among this group would save the most because of Finance Minister Pranab Mukherjee's new tax slabs? A back of the napkin calculation will tell us that people having a taxable income of Rs 500,000 will be paying a tax of Rs 34,000 in 2010-11 as against Rs 54,000 in 2009-2010. A saving of 37.04%!
Similarly for women earning Rs 500,000, the savings due to the new laws would be to the extent of 39.22%. And senior citizens earning Rs 500,000, savings would be a phenomenal 44.44%!
The finance minister surely must have gathered some great fans in this segment!
Savings even at an income level of Rs 15,00,000 -- for all the three groups -- is a decent 14%.
The tables below illustrate the exact percentage of savings for all the three groups.
Men

Income (Rs)

Tax Payable (Rs)

Saving

Old Slab

New Slab

%

161,000

100

100

0.00%

250,000

 9,000

9,000

0.00%

300,000

14,000

14,000

0.00%

400,000

34,000

24,000

29.41%

450,000

44,000

29,000

34.09%

500,000

54,000

34,000

37.04%

550,000

69,000

44,000

36.23%

600,000

84,000

54,000

35.71%

750,000

129,000

84,000

34.88%

800,000

144,000

94,000

34.72%

850,000

159,000

109,000

31.45%

900,000

174,000

124,000

28.74%

950,000

189,000

139,000

26.46%

1,000,000

204,000

154,000

24.51%

1,050,000

219,000

169,000

22.83%

1,100,000

234,000

184,000

21.37%

1,150,000

249,000

199,000

20.08%

1,200,000

264,000

214,000

18.94%

1,250,000

279,000

229,000

17.92%

1,300,000

294,000

244,000

17.01%

1,350,000

309,000

259,000

16.18%

1,400,000

324,000

274,000

15.43%

1,450,000

339,000

289,000

14.75%

1,500,000

354,000

304,000

14.12%
Women

Senior Citizens

 

Income (Rs)

Tax Payable (Rs)

Saving %

Income (Rs)

Tax Payable (Rs)

Saving

 

Old Slab

New Slab

Old Slab

New Slab

%

191,000

100

100

0.00%

251,000

100

100

0.00%

250,000

6,000

6,000

0.00%

275,000

2,500

2,500

0.00%

300,000

11,000

11,000

0.00%

300,000

5,000

5,000

0.00%

400,000

31,000

21,000

32.26%

400,000

25,000

15,000

40.00%

450,000

41,000

26,000

36.59%

450,000

35,000

20,000

42.86%

500,000

51,000

31,000

39.22%

500,000

45,000

25,000

44.44%

550,000

66,000

41,000

37.88%

550,000

60,000

35,000

41.67%

600,000

81,000

51,000

37.04%

600,000

75,000

45,000

40.00%

750,000

126,000

81,000

35.71%

750,000

120,000

75,000

37.50%

800,000

141,000

91,000

35.46%

800,000

135,000

85,000

37.04%

850,000

156,000

106,000

32.05%

850,000

150,000

100,000

33.33%

900,000

171,000

121,000

29.24%

900,000

165,000

115,000

30.30%

950,000

186,000

136,000

26.88%

950,000

180,000

130,000

27.78%

1,000,000

201,000

151,000

24.88%

1,000,000

195,000

145,000

25.64%

1,050,000

216,000

166,000

23.15%

1,050,000

210,000

160,000

23.81%

1,100,000

231,000

181,000

21.65%

1,100,000

225,000

175,000

22.22%

1,150,000

246,000

196,000

20.33%

1,150,000

240,000

190,000

20.83%

1,200,000

261,000

211,000

19.16%

1,200,000

255,000

 205,000

19.61%

1,250,000

276,000

226,000

18.12%

1,250,000

270,000

220,000

18.52%

1,300,000

291,000

241,000

17.18%

1,300,000

285,000

235,000

17.54%

1,350,000

306,000

256,000

16.34%

1,350,000

300,000

250,000

16.67%

1,400,000

321,000

271,000

15.58%

1,400,000

315,000

265,000

15.87%

1,450,000

336,000

286,000

14.88%

1,450,000

330,000

280,000

15.15%

1,500,000

351,000

301,000

14.25%

1,500,000

345,000

295,000

14.49%
1 lakh = 100,000