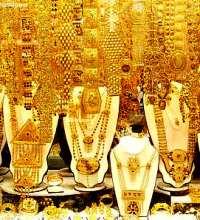 If you have gold jewellery to offer as collateral for personal loan, procedural hassles are minimal and banks don't check your credit score.
The amount of documentation and the excessive verifications before your personal loan gets processed can be a nightmare.
Here is where your jewels can lend a hand, specifically gold.
With the current interest rate fluctuations, opting for a jewel loan as against a personal loan is more lucrative. Not only are your overall costs reduced, this will save a lot of your time.
"One of the major advantages is that the loan is processed almost immediately, within hours, even minutes at some banks, with minimal documentation," said Harsh Roongta, CEO, Apnapaisa.com.
The Credit Information Bureau (India) Ltd scores which reflect an individual's credit history are beginning to play an important role in acquiring personal loans. However, a jewel loan requires no such score.
While the requisite documents for a jewel loan differ across lenders, most normally require no more than a proof of income or address.
The clincher: the interest rates between a jewel loan and a personal loan can differ by as much as 5-8 per cent for the same amount loaned.
Some lenders charge a nominal fee for processing and others a small fee as closing charges. Co-operative banks require you to be a member, charges for which, again, can be as low as Rs 5.
Jewel loans can be availed of at co-operative banks, public sector banks, private sector banks and other private lenders. Some banks, however, offer it only in certain regions, the only disadvantage.
While private lenders process the loan in less than a couple of hours, some co-operative and public sector banks may take up to a day to issue the loan.
In any case, the time is much less than the minimum three days of processing time for a personal loan. Loan to value, or the maximum ratio of a loan's size to the value of the asset, for a jewel loan is on par with that of a personal loan.
The Reserve Bank of India has no strict policy on jewel loans.
In late 2007, the RBI had issued a notification which permitted bullet repayment (a lump sum payment of the principal at maturity) of gold loans.
Subject to specific guidelines from the apex bank, each bank may fix its rate for gold, reflecting the market price at that point of time.
Care should be exercised if you have defaulted on a loan earlier, be it personal or any other. Your jewels might not be returned at the end of the loan tenure if you approach the same branch.
Approaching another branch or bank in this case would be one solution, as they would not have any record of your default history.
A State Bank of India official, however, cautioned that some time in the near future, they would start looking at Cibil scores before approving a jewel loan.
The loan tenure is not uniform across banks. With private lenders like HDFC Bank and some co-operative banks, the tenure is annual.
Non-banking financial companies like Mannapuram Finance have a one-month tenure. But, an advantage with monthly renewals is that the loan value also increases every month with the appreciation of gold.
At SBI, the individual must repay some amount of the principal along with the interest every month, as non-repayment for a continuous period of three months will render the loan a non-performing asset.
Considering the advantage a jewel loan offers in terms of a rent-free locker, a little bit of juggling can even help you save renting a locker for your jewels! (Obtain a fixed deposit on the loan, which should work out lesser than the rent charged on lockers.)
Of course, it makes more sense to opt for a jewel loan from a public sector bank or a co-op bank, as some private lenders have had a history of shutting down and not returning the gold.