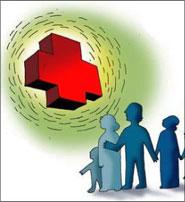 Private non-life insurance companies are likely to implement the packaged rates prescribed by their public sector counterparts for cashless mediclaim.
"Private players have expressed interest in following the packaged rates decided by the PSU insurers," said a senior General Insurance Public Sector Association (Gipsa) member who did not want to be quoted.
The rates worked out by Gipsa are likely to be 15-20 per cent less than what healthcare providers charge at the moment.
"We have in principal agreed to be part of the packaged rates. But the mechanics of packaging needs to be worked out. We will join them, but how soon will depend on how fast they move and incorporate us," said Sanjay Datta, head of health insurance at ICICI Lombard.
The PSU insurers had graded hospitals under four categories -- primary, secondary, tertiary and tertiary plus, the Gipsa member said. He added they had made a list of 43 diseases. The rates, 15-20 per cent less than what the hospitals charge, will differ on the basis of provider, infrastructure, location and past experiences.
"We have not formally advised on the rates but would like to join them if it brings down our costs," said T R Ramalingum, head of underwriting, Bajaj Allianz General Insurance.
By packaging rates and stabilising costs, insurers expect to cut expenses. "The claim ratio may not fall but the cost of treatment at individual hospitals will become standardised. The rates may differ from one hospital to another based on location and facilities," said New India Assurance Chairman and Managing Director M Ramadoss.
State-run insurers have made a list of hospitals in the National Capital Region, Mumbai, Chennai and Bengaluru. The rates are worked out on the basis of those accepting the rate packages. The rates include medical procedures and hospitalisation costs.
The public sector insurance companies -- New India Assurance, National India, United India and Oriental Insurance --launched a new list for the preferred provider network after they stopped the cashless facility from July. Under the new list, only healthcare providers selected by the four insurance companies are covered by the cashless mediclaim policy.
Meanwhile, the Insurance Regulatory and Development Authority (Irda) has asked insurance companies to provide the cashless facility if the policyholder is undergoing treatment in a hospital that has been put off the preferred network list.
The insurance industry has been incurring huge losses in the health segment. In the last financial year, PSUs paid claims of Rs 5,400 crore, as against a total collection of Rs 4,900 crore.
For policyholders willing to pay higher premium to be treated at any elite hospital, insurance companies are working on a different product.