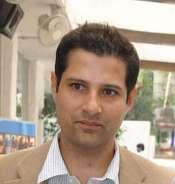 Ashish Hemrajani, the young entrepreneur behind India's biggest online ticketing site, Bookmyshow, convinces Priyanka Joshi that taking a risk does pay off sometimes.
It is hard to imagine Ashish Hemrajani, the boyish looking 35-year old founder-CEO of online entertainment ticketing site Bookmyshow, as a tough nut. But he must be one.
After all, he's survived two recessions in the 11 years he has been in business - the dotcom bust of 2000 and last years' global financial crisis.
Today, bookMyShow is India's premiere online ticketing site, having sold movie tickets worth Rs 6.21 crore (Rs 62.1 million) for Avatar and Rs 9 crore (Rs 90 million) for 3 idiots early this year.
Hemrajani may sound bullish when he says he is the largest player in the online ticketing business, but the numbers corroborate his claims.
BookMyShow is one of India's top five websites in terms of transactions, with sales of over 750,000 tickets and customer spends of over Rs 100 million, on an average, every month.
It was a fleeting idea that led Hemrajani to become an entrepreneur.
Backpacking from Johannesburg to Cape Town, he struck upon the idea of selling movie tickets online to eliminate the queue outside theatres in India.
This was in 1999, and the country was just about waking up to computers; few had credit cards and net banking was unheard of.
Only 24 years old then, Hemrajani came back to India and quit his job with J Walter Thompson, the advertising agency, to start his business. "Much to my father's chagrin," he recalls.
To start off, Hemrajani sent an email to Chase Capital describing his business plan. "Seven days later, I got a call from them asking me how much money I wanted," he says, his face breaking into a smile.
With half a million dollars of funding, Hemrajani launched Bigtree Entertainment that ran its business as under the brand name Goforticketing -rebranded as Indiaticketing in 2002, before finally being christened BookMyShow three years ago.
The lack of e-ticketing software in theatres and single screens meant Hemrajani had to buy tickets in bulk from theatres in advance and then sell this inventory to customers.
"During weekdays, we suffered losses when we could not sell the tickets and on weekends there was the opportunity loss because the booking wasn't happening real time," he says, adding, "It was a non-scalable model."
It did not help that the Telegraphic Act and Cinematic Act (1950) did not allow automated booking of tickets outside the box office, but an amendment 18 months later took care of that difficulty.
By 2000-2001, Bigtree had a team of 150 and added Rupert Murdoch's News Corp as an investor partner - when it ran into the dotcom bust. The company shrunk to just six people as Hemrajani realised that he had to tighten the business.
"We took salary cuts, renegotiated with investors and decided to invest every single rupee that we earned back into the business," he remembers. The lessons went so deep that Bigtree didn't hire even when the market turned bullish on Internet businesses. "Instead, we picked up some great talent during the recent financial crisis," he claims sounding like a tough paymaster.
Between 2002 and 2004, as the number of multiplexes across India grew, Bigtree turned into a software solutions provider that sold automated ticketing software to theatres.
"Today the company has ticketing partnerships with over 1,000 screens across 50 cities," he informs, stealing a quick peek at his iPhone that has been buzzing fervently every two minutes.
Three years ago, Hemrajani re-launched the business as BookMyShow - adding Web18 as a strategic partner - and ever since has been growing at 40 per cent year-on-year.
Bigtree has also ensured that it stays ahead of the competition by selling CRM (customer relationship management) and loyalty software to all multiplexes.
"While we were selling our software to multiplexes, we also started focusing on sporting events, theatre and, more recently, live events in cities," he says.
In sports, Bookmyshow sold tickets to major events such as the IPL 3, the hockey World Championships and Badminton Asia Championships in Delhi.
The company was the exclusive ticketing partner for Mumbai Indians and Kings XI Punjab, and the official online ticketing partner for Delhi Dare Devils this year.
With ticket sales revenue crossing Rs 30 crore (Rs 300 million) for the Mumbai Indians and Rs 24 crore (Rs 240 million) for Kings XI Punjab, Hemrajani knows he is on to a good thing.
"As ticketing experiences have improved, we were able to convince event managers and organisers to allow us to sell tickets of their events and live shows. Non-movie revenues should grow faster this year," Hemrajani says hopefully.
Realising that technology will be critical if Bookmyshow is to keep ahead of the competition from recent launches such as KyaZoonga, Hemrajani says he has a few tricks up his sleeve.
For one, BookMyShow has launched a Facebook application called 'Ticket Buddy' that allows customers on Facebook to block a maximum of 10 seats of forthcoming movies without having to pay for all; they can even invite friends to join them on the show.
The application was developed because Hemrajani believes that films are a social viewing exercise in India. "The best part is that the Facebook friends can choose to pay for their own tickets and invite others in the group to join and pay accordingly," he says.