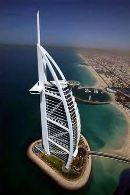 Murphy's law is at work in the global financial and realty markets. If something can go wrong, it will. No one who is familiar with the facts of Dubai's boom and its global dimension ought to have been surprised by the debt crisis that has hit Dubai World.
For the last one year, there have been far too many stories coming out of the region on real and potential bankruptcies, plans being shelved, excess capacity and inadequate demand.
The global financial crisis and the rollback in oil prices in 2008 were largely responsible for this. However, for the same reason, the moderation of the global slowdown and the recent rise in oil prices have helped improve sentiment in the region.
Lack of transparency, poor management of a financial problem and the long weekend seem to have done more to spook the markets than the real size of the problem itself.
Nevertheless, it is better to be forewarned and to hedge one's bets about hot spots like Dubai till the global economy is back on an even keel.
The government of Abu Dhabi has already stepped in with some reassuring remarks, even if these do not fully ease the situation for Dubai.
Informed analysts suggest that Dubai World has the capability to handle a large part of the problem it faces, given the better economics of its other subsidiaries like Dubai Port World.
It is the property subsidiary, Nakheel, that has taken the hit from the near 50 per cent fall in property prices in Dubai. State-controlled economies like China can absorb the shock of excess capacity in real estate better than a more market-dependent economy like Dubai.
As for India, the central bank and the finance ministry have made reassuring statements and it is possible that direct exposure of the banking system to Dubai World is limited.
However, there is a larger problem of stability and future of Gulf economies that India must think about. The growth engines of the region have fuelled the Indian economy for more than two decades now.
The slow pace of urban modernisation in India, especially in a city like Mumbai, has made city states like Dubai and Singapore attractive havens for an increasingly wealthy and globalised elite.
States like Kerala have become far too dependent on financial inflows from the Gulf. All those with this kind of exposure to the region must hedge their bets.
While it is true that the global financial crisis and the slowdown did not result in a decline in inward remittances from Indians abroad, it is possible that the so-called "flight to safety" factor may have been partly responsible for this.
Even now, Indians in the Gulf may step up homeward remittances as an escape to safety. In the medium- to long-term, however, India must find newer sources of foreign exchange inflow and not remain too dependent on workers' remittances.