The magnitude of outrage triggered by the miscarriage of justice in the Bhopal gas leak tragedy is a moment of truth for all of us, says Rajni Bakshi.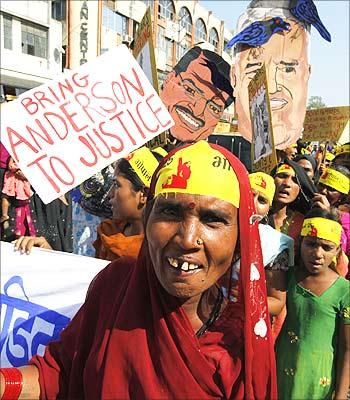 How ironic that the film Rajneeti was released just a few days before the judgment on the criminal cases pending since the Bhopal gas leak tragedy.
Prakash Jha's movie, which coincidentally was shot in Bhopal, graphically depicts the raw brutality of a feudal elite which manipulates elections and political parties to feed its power-hunger. All those who get in the way, even family members, are dispensable. Lives of 'ordinary' people are worth even less in this reel-world.
In real-life Bhopal has become a synonym for bizarre abuses of power and abdication of responsibility. Elected representatives, bureaucrats, lawyers and private sector leaders succeeded at every stage in subverting justice.
That is why 26 years after an estimated 15,000 people were killed and lakhs more were permanently injured, by the gas leak at Union Carbide's plant, victims are still seeking relief and waiting for the guilty to be punished.
Watching the movie and following the Bhopal-gas saga is enough to justify terminal despair. Both experiences validate our worst fears and induce utter revulsion against politicians, bureaucrats and big-money private players.
And yet this is an incomplete picture. A 360 degree view of the reality shows life teeming with struggles to contain abuses of power, to plant seeds of justice in the hostile terrain of an imperfect political system.
Some people despair because these cumulative failures have not caused outrage to burst into mass protest and stone throwing in the streets. But what if the future is being quietly shaped by sub-surface processes that are undramatic and hold no promise of producing miracle results in the near future?
Attitude, more than objective reality, is the critical ingredient determining our future.
Do you see democracy as a completed exercise that must work in a particular way on its own -- with most of us in the role of spectators who earn the right to watch by voting once every five years?
Or do you see democracy as indefinitely being a work in progress, a facet of civilization that has to be continuously evolved by you and me?
Saying yes to the latter is neither lofty nor over-ambitious. It is the essence of what gave a few hundred villagers, in an obscure corner of Rajasthan, the confidence and determination to hold the first public hearing demanding right to information.
I have vivid memories of that gathering on a dust-swirling sunny day in 1995. The hearing, organised by the Mazdoor Kisan Shakti Sangathan, gave voice to a starkly simple and obvious question. If the money in the panchayat account is public money, OUR money, how come we can't see the accounts books and muster rolls of public works undertaken by the panchayat.
Sure there were people in that crowd who came as spectators -- who merrily joined in slogan shouting for a just demand but whispered about the impossibility of ever winning.
But enough people there, and in scores of other such gatherings over the years, have defied pessimism and doggedly persisted. And the rest is history.
A Right to Information legislation was passed and today that law galvanizes a staggering variety of ordinary citizens to play a role in demanding accountability from government departments and politicians.
Similarly, there are organisations and individuals across India who refuse to give up on the delays, corruption and other failures of our judicial system. So they came together and formed the Campaign for Judicial Accountability & Judicial Reforms (CJAR) -- to work for a judicial system that is more accountable as well as accessible and sensitive to the poor.
CJAR's premise is that judicial reform is too important to be left to elite legal/judicial circles -- with their official commissions and dust-gathering committee reports.
So CJAR aims to engage the most vital stakeholders of the system, common people, in building pressure for serious reforms. Patrons of CJAR include former Supreme Court Chief Justice V R Krishna Iyer and two former Supreme Court judges and several noted lawyers. Its network consists of scores of NGOs and people's movements spread across India.
This campaign takes credit for bringing issues of judicial accountability on the national agenda, making it one of the most discussed issues in the media.
All this is well and good, the sceptic might argue, but such efforts and energies are not able to prevent monstrous injustices -- thus the shame of Bhopal. Also, look at the number of real-life politicians whose deeds match characters in Rajneeti!
Indeed, the crisis of democracy is deep, complex and global. From the United States to Mongolia, from South Africa to Finland, there is an upsurge of anxiety that democracy is not delivering on its most basic promise  -- equality before the law regardless of class, caste or creed.
While the saga of Bhopal is far more heart-rending, subversion of democracy is unfolding in Washington DC in another manner. In May, Rolling Stone magazine published a detailed investigation which shows how America's biggest banks used lobbying to prevent the US Congress from carrying out serious reform of the financial system.
But a wide variety of people across the world are also engaged in grappling with this crisis  -- as academics, activists, professionals and just citizens with a vision of a more just society.
For example, the Centre for Study of Developing Societies, in Delhi, is anchoring a series of Global Conversations on Democracy. A three-year process bringing together people from different corners of the world, these dialogues are seeking answers to the theoretical and practical conundrums of democracy.
They also offer a window to the many creative endeavours through which the promise of democracy is sought to be fulfilled.
True, none of these endeavours offers any immediate hope or solace to the victims of Bhopal. But the magnitude of outrage triggered by this miscarriage of justice is a moment of truth for all of us.
Do we stop at lamentation and condemnation? Or does each one of us find ways of playing a role, however small, in that most vital work-in-progress: a democracy we can be proud of.
Image: Local activists stage a demonstration to mark the 25th anniversary of the Bhopal gas disaster. Photograph: Reinhard Krause/Reuters
Rajni Bakshi is a Mumbai-based freelance journalist and author of Bazaars, Conversations and Freedom: For A Market Culture Beyond Greed And Fear.