Nokia India, an undisputed leader in the mobile handset market a few years ago, faces rising competition from home-grown players who have entered the market with several me-too devices, at much lower price points.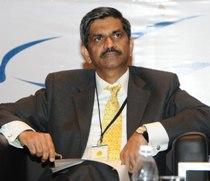 In its latest earnings release on April 22, Nokia revealed its global operating profit dropped to 11 per cent, compared to 20 per cent last year. D Shivakumar vice-president and managing director, is unperturbed. In a chat with Business Standard he explains how the company will take on the competition, with new devices and affordable mobile services. Excerpts:
IDC numbers suggest Nokia should be concerned about the emergence of new players who have a 17 per cent share in the handset market...
We aren't in India just to have a lion's share of the market. We have consistently delivered devices relevant to consumers and added innovation to back our device portfolio. So, when we launch music phones, we make sure there's a music service to go with these or when we launch business phones, we gave free email and services relevant to the users. Standalone device manufacturers cannot hold out on their devices alone. Consumers want more than just a plain-vanilla handset. And, Nokia is the only device manufacturer doing so right now. Nokia is still the world's largest mobile phone maker, manufacturing 108 million phones globally in the first quarter of 2010 - 16 per cent more than the same period last year.
How do you plan to make a comeback in the sub-5K and sub-10K segments, which have seen a deluge of mobile devices from players like Samsung?
Yes, there was a lag in launching sub-10k devices but we had several offerings even as our competition launched a touchscreen device and others followed suit. But, instead of hustling up devices, we have planned to launch five new handsets, priced between Rs 5,000 and Rs 17,000 that will give consumers free music for 12 months. This is value-addition. We know 300 million users are looking to replace their handsets this year. We will target this replacement market with relevant services that complement our handsets, which includes music, apps and a mobile money platform, of which we are running a pilot project with YES Bank in Pune.
Can we attribute the loss in your market value primarily to the fact that your company was not able to produce a high-end, easy-to-use smartphone to challenge Apple's iPhone?
We don't see it that way. Last year, we invested in launching the Ovi store in India. The result of which is that we are seeing over a million downloads a day through Ovi Store in India alone. On average, each registered user has downloaded almost 12 items from Store since the launch of the service.
On new launches, we have quite a few this year. We are readying for the launch of its N8 smartphone, which will be launched in the last quarter this year. The N8 will feature Nokia's own operating system, Symbian version 3, a multitouch display, HDMI output, digital media capabilities (including Web-based TV) and a 12-megapixel camera with Carl Zeiss optics. We will also deliver the first Maemo 6-powered mobile computer, with an iconic user experience, in the second half of 2010. We have already announced a new Symbian version and we are also keen to explore handsets that will be based on open-source platforms like Maemo that can give great smartphones to consumers.
Besides, we will extend the free music service to new devices this year. Presently, we have just five handsets that have free music service but there would be more such music-embedded handsets.
Will 2010 be a services-led year for Nokia?
Handsets alone cannot sell in a crowded market like India. Hence, we are investing in services. For instance, Nokia Life Tools that offers farmers mandi prices at Rs 60 per month has been a success even in the pilot phase in Maharashtra, with over a million active users. We had to extend it from three handsets to eight handsets and all five leading operators have joined hands with us to provide these services. I am talking about these services that engage the user in a way that plain handset vendors can never hope to achieve. I won't say we will only do services in 2010, but what we can do with mobile services, perhaps no other vendor can match up. How many vendors are investing in delivering apps, services and utilities for both urban and rural masses? None, to my mind.