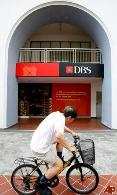 The Singapore-based DBS Bank has said its total exposure to Dubai is around $1.28 billion and out of this only $400 million is to the troubled Dubai World, but the bank believes that the situation is manageable.
According to a bank statement released on Monday, a substantial portion of the $1.28 billion exposure is to Dubai government-owned companies operating in Asia that are sound, such as Labroy and South Beach, which is collateralised.
The bank further said that out of this, only $400 million is extended as a bilateral loan to Dubai World Finance, the financial services arm of the debt-ridden Dubai World.
"As of today, the only credit that is captured under the standstill notice is a $400 million bilateral loan to Dubai
World Finance which represents 0.2 percent of DBS' total balance sheet. The bank has no exposure to Nakheel (the troubled relaty arm of Dubai World). "DBS' exposure to the entire Middle East region accounts for around two percent of its balance sheet," the statement said.
DBS, one of the largest financial services groups in Asia with operations in 16 markets, is a well-capitalised bank with "AA-" and "Aa1" credit ratings.