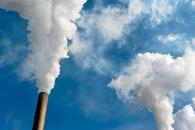 This is yet another case of middlemen making hay while the sun shines. India may be the second largest country after China in terms of carbon credit generation, but experts say Indian companies are unable to take full advantage of this.
They end up selling almost a third of the credits generated to middlemen at very low rates.
Many small and medium companies do not have adequate knowledge of how to register projects to be eligible for carbon emission certificates and where to sell them. That is where brokers step in; they help clients in completing formalities, but help themselves more by buying a third or even more of the credits generated at a predetermined rate.
Companies get Certified Emission Reductions (CERs), popularly known as carbon credits, issued by the Clean Development Mechanism (CDM) Executive Board for emission reductions achieved under the rules of the Kyoto Protocol.
India has 474 projects registered with the United Nations, second only to China's 680. However, in terms of CERs, India's share is just 11.63 per cent, while China's is 58.75 per cent. The Indian government has approved more than 1,455 CDM projects which can potentially make Rs 28,000-30,000 crore in export earnings.
Experts say the potential can be much bigger if smaller companies could be saved from misguiding brokers. One third of the CERs are with the top five companies (see chart), which are more aware of the procedures.
Sudipta Das, partner with Ernst & Young in advisory services, says some intermediaries represent the carbon credit buying community in the developed world. "Sometimes they misguide their clients, who start believing that getting their carbon emission certified and selling them is risky and tedious and  there is no proper return," he says, adding that many companies end up selling carbon credits at ridiculously low rates.
Das says companies should approach only renowned consultants who can help them transact the credits on optimal terms. Alternatively, companies could approach those who have successfully sold their carbon credits at good market rates and learn from their experience.
"India is already among the top two countries for CER projects. With the global demand for CERs expected to rise significantly in 5-10 years, CERs could be a major contributor to India's export earnings," says Jaldeep Sodhi, vice-president with Avalon Consulting, which advises companies in this respect.
For selling CERs, commodity futures exchange MCX had launched CER contracts, but it is not liquid as the sellers of these credits are Indian companies, while buyers are overseas entities which cannot buy on Indian exchanges.