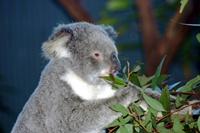 A report released at the Copenhagen climate change conference by the International Union for Conservation of Nature (IUCN) has listed ten species likely to suffer huge losses due to global warming.
According to a report in National Geographic News, although the ten species aren't those most at risk, IUCN selected them because they are well-researched 'flagship' species that are being affected by a spectrum of climate change impacts, from melting sea ice to beach erosion.
Many of the animals featured in the new report already appear on IUCN's Red List of Threatened Species for other reasons, such as habitat destruction and overharvesting.
This makes climate change an "additional and major threat," according to the report authors.
"Perhaps the most vulnerable species on the new list is the staghorn coral, which has been greatly weakened by bleaching," said Wendy Foden of IUCN's Species Programme.
Bleaching occurs when warmer oceans cause corals to lose their symbiotic algae, leaving the blanched reefs to slowly perish.
At the same time, coral declines mean that another of the report's threatened species, the clownfish, is suffering from lost habitat.
Meanwhile, rising carbon dioxide in the atmosphere is causing eucalyptus plants in Australia to produce leaves with fewer nutritious proteins and more unpalatable tannins.
This means that koalas, which eat only eucalyptus, will have to consume even more to keep from starving.
"We definitely didn't anticipate that one," Fodel said.
"Like the polar bear, several of the report's species-- such as the arctic fox, emperor penguin, beluga whale, and ringed seal-- depend on polar snows and ice for their survival.
No one knows what will happen to some these species when polar summer ice completely disappears-- which may occur in the Arctic by 2040, according to experts.
The report's other at-risk species include the African quiver tree, under threat due to drought, and salmon, whose home streams may experience changes in flow rate due to earlier snow melt.
Co-author Fodel emphasised that the species in the new report are not yet in dire straits: The ringed seal, for example, is still the most common seal in the Arctic.
"They can adapt-- it's a question of whether climate change is slow enough for them to adapt," she said.