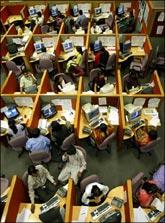 US-based Sonoa Systems is among the few start-ups which did not resort to drastic cost rationalisation in the wake of the global slowdown. The company has had an offshore operational model since inception which helped manage its costs better.
For Sonoa Systems, the US is also a major market. The company specialises in providing solutions for cloud computing and application programming interface. The company's entire development work, right from design and development to quality analysis, is done at its Bangalore centre. The 50-member team in India is also involved with sales and marketing.
"The offshore model was thought of right at the time of the inception of the company in 2005. The benefits were evident during the current downturn. Last year, every start-up downsized their teams, but we did not touch our Indian team," said Chet Kapoor, chief executive officer of Sonoa Systems.
Kapoor said other than the fact that customers continued to work with them, this model allowed them to manage costs better.
Industry leaders point out that start-ups looking at having centres in low-cost regions is an old trend. But what has changed now is the urgency with which companies are looking at this model. For start-ups, this model could save 30-40 per cent in costs, said industry experts.
"Venture capitalists (VCs) asking their investee firms to look for an offshore model is an old practice. It has probably gathered steam now, as even follow-on funds are becoming a challenge," said Arun Natarajan, managing director and chief executive officer, Venture Intelligence.
The current slowdown is pushing the outsourcing story among Silicon Valley start-ups. Another case in point is Reliance Technology Ventures (RTV), which invests in start-ups across the globe.
RTV's investee company, US-based Stoke which provides mobile broadband gateway, was asked to open an office in India. Other investors in the company are Japanese firm NetOne Systems and Sequoia Capital, among others. Harshal Shah, chief executive officer of RTV, said this did not only help lower operational costs, but also drove the company's growth in medium to long term.
"Setting up offices in low-cost areas help companies reduce costs as they offshore their basic functions - get quality work-force at cheaper rates and high quality domestic skills help generate economies of scale and scope. Additionally, India's domestic market is enticing as a part of mid to long-term agenda," said Shah.
Agrees Promod Haque of Norwest Venture Partners, who is an investor in Sonoa. "Sonoa is an apt example of this model. We have seen that VCs are recommending start-ups to have an offshoring model simply as this helps in cost efficiencies," he added.
Mohanjit Jolly, executive director of Draper Fisher Jurveston (DFJ), while agrees the outsourcing of work is a trend, but the parameters of selecting this model cannot be governed by cost alone.
"One cannot make a blanket statement in favour of using an offshore development partner. Many US companies have had issues around quality issues and employee churn within Indian companies. Some US companies may be looking for specific expertise which may not be available or reliable in India. So, besides cost, there are several other parameters that lead to the decision of outsourcing/ offshoring development to a partner based in India or anywhere else, for that matter," added Jolly.
However, a large chunk of DFJ's portfolio companies in the US have either a captive development operation in India or have outsourced part of their development to companies here, "and that was not due to any mandate by DFJ but rather driven purely by business reasons," said Jolly.
But Gautam Patel, a private equity investor, believes the offshoring model only works well if there is enough room for scaling up.
"A start-up with just 15 engineers can work well in the US as well. If the company is sure that from the initial 50 people, they plan to increase this to 100-150 employees, then it makes sense. The start-up must have some amount of critical mass to look at this model. Besides there are teething risks associated with start-ups looking at this model," said Patel.