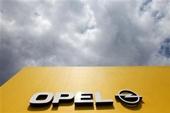 Citing better business conditions, US car maker General Motors has scrapped plans to sell its European operations, including Opel, and will initiate restructuring efforts worth billions of dollars of the same.
In the wake of the financial turmoil, GM, which has emerged leaner after revamping itself under bankruptcy protection, had earlier agreed to sell German car business Opel and UK brand Vauxhall to Canadian automotive supplier Magna International.
The decision to retain Opel in addition to restructuring its European operations was taken by the company's board of directors in the backdrop of "improving business environment," GM said in a statement on Tuesday.
Preliminary estimates peg the restructuring charges to be about three billion euros.
"GM will soon present its restructuring plan to Germany and other governments and hopes for its favourable consideration," GM President and CEO Fritz Henderson said.
"From the outset, our goal has been to secure the best long term solution for our customers, employee, suppliers and dealers, which is reflected in the decision (to retain Opel and restructure European operations)...
"This was deemed to be the most stable and least costly approach for securing Opel/Vauxhall's long term future," he added.
The decision is likely to frustrate Europe, especially since the German government had agreed to provide over four billion euros loan to Magna, related to the planned Opel sale.