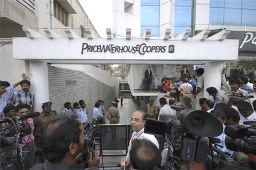 Accountancy regulator ICAI on Wednesday agreed to withdraw disciplinary proceedings against audit firm Price Waterhouse Delhi for its alleged involvement in the multi-crore scam in Satyam Computer Services.
The Institute of Chartered Accountants of India decided to withdraw proceedings against PW, Delhi, after the Delhi High Court objected to the regulator's action against the firm without giving any evidence that it was related to PW, Bangalore, the statutory auditors of Satyam.
"They are separate partnership firms with separate balancesheets. There is no inter-connection (between PW Delhi, PW Bangalore and PW Kolkata) and profit and loss of one cannot be shared by others. You cannot say that the Banglore firm which was statutory auditor of Satyam has anything to do with Delhi firm," said Justice Sanjiv Khanna.
The court, however, made it clear that the regulator is free to initiate fresh proceedings if it finds "prima facie evidence of misconduct" against PW Delhi, a member of global auditing firm PriceWaterhouseCoopers.
"I am with you (ICAI) if they are wrong. But the anxiety of the court is that there must be fairness in the proceeding. If someone has done wrong, then he must be punished," the court told ICAI while passing the order.
The role of Price Waterhouse auditors came to light after Satyam founder admitted to the Rs 7,000 crore fraud (Rs 70 billion) in the IT firm in January this year.
Advocate Amit Sibal, appearing for PW Delhi, submitted ICAI's action was illegal as PW Bangalore had audited Satyam accounts.
"There are six franchises of the international audit firm in the country and they are not related to each other in any way. We have nothing to do with the Bangalore firm which had audited Satyam accounts. So, there doesn't arise any cause for action against us in the aftermath of the Satyam scam," Sibal said.
ICAI had on October 8, 2009 issued notices against Price Waterhouse - Delhi, Kolkata and Bangalore-based members.