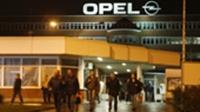 The German government, politicians and trade unions have expressed their outrage over US automaker General Motors' decision to cancel a planned sale of German subsidiary Opel to Canadian company Magna.
Opel workers stopped work and demonstrated in front of the company's four production locations in Germany to vent their anger over GM's unexpected decision on Tuesday not to sell Opel to auto components maker Magna and instead to reorganise the company.
The turn-around by GM came after its managing board had on September 10 given its approval for the sale of Opel to Magna. GM on Tuesday decided also to keep its British subsidiary Vauxhall under its control.
Opel's European hub in Ruesselsheim, near Frankfurt, was the main focus of warning strike, but thousands of workers took to the streets also at the other production plants in Bochum, Eisenach and in Kaiserslautern.
They were addressed by the State Prime Minister of Hessen, Ronald Koch, the State Prime Minister of Rhineland Palatinate, Kurt Beck, and the leader of the engineering workers' trade union IG Metall, Berthold Huber, who sharply condemned the GM's decision.
German politicians and workers fear that GM might close down one or two production plants in Germany in the process of restructuring Opel. It may also lay off thousands of workers and force the remaining workers to make sacrifices to protect their jobs.
Germany's new Minister for Economy and Technology Rainer Bruederle said the "behaviour of General Motors against the Opel workers as well as against Germany is completely unacceptable".
He said the government would demand Opel to repay a bridging loan of 1.5 billion euros paid by the government
after an agreement with Magna in May.
A government spokesman said the government was "deeply hurt and upset" by the GM managing board's decision and it would seek an urgent discussion with the US government on this matter in the coming days.
German press reports said GM has plans to lay off around 10,000 German workers and to close two production locations.
General Motors had already warned that Opel would go into insolvency if the workers and the trade unions would not
support its restructuring plans.
Early this year, GM came under pressure to sell its German subsidiary as its economic difficulties deepened in the
wake of the global economic and financial crisis. However, after receiving billions of dollars of financial bail-out
funds from the US government, the company is in a much better situation at present.
Opel traditionally has been a source of innovation and a centre of new technology for GM and its new management board is now convinced that Opel is an important asset for the parent company's future development strategies. This may have been the driving force behind the decision by the GM's managing board not to sell the plant to Magna, according to automobile industry analysts.
However, the collapse of the proposed sale of Opel to Magna is seen as a setback for the German government,
especially for Chancellor Angela Merkel, who made it her preferred choice for rescuing thousands of jobs in Germany and had pressed for the deal to get through.
Magna had promised to keep all four production locations in Germany and to lay off a maximum of only 2,600 German
workers.
Meanwhile, the European Commission has called upon the German government not to offer General Motors the same
financial support it had offered for Magna. In addition to the bridging loan of 1.5 billion euros paid to Opel, the German
federal and state governments had expressed their readiness to provide an additional credit of 4.5 billion euros if Magna
finally buys the company.