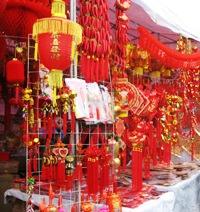 The global slowdown seems to have held back the colourful Chinese dragon that used to rule Diwali shopping in the national capital.
The confetti of cheap Chinese goods like electric streamers, gift items, idols of Hindu deities like Ganesha, Lakshmi and Shiva, crockery and other decoratives in the markets has failed to spark demand, unlike the preceding years.
In fact, traders in Sadar Bazaar, the biggest wholesale market in North India, had placed far less orders in anticipation of the demand slump.
"This time the market is very dull because of the slowdown. Not only have there been less arrivals of Chinese goods in the market, the traders are concentrating more on selling off their previous years' stocks," Sushil Agarwal, a trader, said.
He said in the previous years Sadar Bazaar looked abuzz with Diwali trading, a month in advance.
"Traders from Punjab, Haryana and J&K came here to procure these goods. But now the regional traders form groups and get the Chinese goods delivered to save costs," Bari Market Traders Association chief Paramjit Singh Pamma said.
Security and parking concerns also discourage them to come to Delhi.
Demand remains dull despite reduction in prices.
Standard Trading Company's Surendra Bajaj said the Chinese crockery sets which used to sell for Rs 600-1,200 until last year are now priced at only Rs 300-800 but haven't been able to fuel demand.
"Slowdown has also hit corporate demand and they are placing lesser orders," Bajaj added.