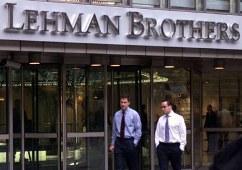 Shrugging off the deadly blow received at the time of Lehman Brothers' collapse, stock markets in emerging countries, led by India, have moved significantly higher from the low levels witnessed a year ago.
Analysts feel green shoots like recovery in economic growth and return of stability in the financial systems have led to a revival in confidence and risk appetites.
"Emergence of these green shots has brought confidence towards a full fledged recovery and return of the risk appetite, which is also reflected on the bourses which moved up significantly higher from their low levels. It's not surprising that emerging markets, which have been at forefront of this recovery, have seen a significant out performance," Angel Broking VP (research) Sarabjit Kour Nangra said.
"Lehman is history. Indian markets are not under pressure. They have recovered and are trading at good levels. Any rise hereinafter has to be attributed to liquidity," CNI Research Ltd Chairman and MD Kishor P Ostwal said.
Moreover, with emerging markets expected to drive the global economic growth, preference towards them and especially India would continue, Nangra added.
The benchmark index Sensex, which is currently around 16,200 points, has gained nearly 20 per cent since September 15 last year, the day when Lehman filed for bankruptcy. The index had been at 13,531.27 points in the same day last year.
Market analysts said the collapse of Lehman Brothers had had been the ultimate blow for financial markets, which were already in deep bearish mood.
"The closest victims were the capital markets of United States and that of Europe. The Indian markets also faced severe fall," SMC Capitals Limited CEO and equity head Jagannadham Thunuguntla said.
Ostwal said India and China would play an important role in determining the global economic health in times to come.
Analysts said that fortunately unlike other recessions which followed the bursting of asset bubbles, this time around apart from recapitalisation of the financial system, the governments of the major economies of the world acted swiftly by slashing interest rates to unprecedented levels and providing fiscal stimuli.
"These measures have aided the return of stability to the financial system and economic activity. Coming to India, as in most other countries, Indian authorities responded to the global financial crisis with expansionary macroeconomic policies," Angel Broking's Nangra said.
The factors which have helped the Indian markets in recovery include re-election of the UPA government, enabling the political stability, and significant domestic demand.
"These factors have brought back the interest of the foreign institutional investors into the Indian capital markets and enabled significant FIIs' inflows," Thunuguntla added.