Moody's on Monday said there is always a risk of another major event sending shock waves in financial markets, even as Asian stocks may have rebounded from the lows post the collapse of Lehman Brothers last year.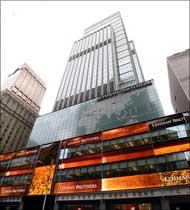 Moody's Economy.Com, a research arm of Moody's, also said any tightening of money supply by central banks to arrest inflation may dampen value of equities in the coming months.
The analysis by Moody's assumes significance with many central banks around the world talking about exit from monetary stimulus soon to tame the rising inflation.
After initial losses following Lehman Brothers' collapse, emerging Asia's financial markets have rebounded. Leading indicators suggest that the recent strong rally in equity markets is justified based on expected GDP growth.
"Financial markets are also influenced by liquidity and events. With many central banks in the region worried about excess liquidity feeding into higher inflation, monetary tightening could weigh on equities' performance in coming months," it said, adding, "meanwhile, the risk of another major event rocking financial markets will always remain."
In India, Reserve Bank governor D Subbarao recently said the country would have to take a call on exiting stimulus measures, both fiscal and monetary, sooner than most other countries. He, however, added that RBI will continue to retain soft monetary stance unless sure of sustained economic recovery.
Moody's said low interest rates in advanced economies and better growth prospects have led to a sharp pick up in foreign institutional investment.
"Based on leading indicators, investors' optimism about Asian emerging markets appears warranted. In coming quarters, inventory restocking will boost production. Purchasing managers' indices in China, India and the Philippines show new orders and production are rising at a fast pace, while labour market conditions are stabilising," the firm said.
Further, improved financial conditions are also set to boost emerging Asian economies' growth in coming quarters.
Lower borrowing costs due to monetary easing and improved sentiment will aid a recovery in private sector investment spending, which has been a major drag on most economies' growth performance thus far, it said.