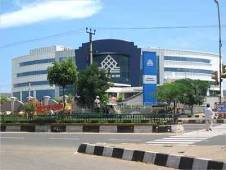 The special court trying the former chairman of Satyam Computer Services, B Ramalinga Raju in the Rs 7,800-crore (Rs 78-billion) Satyam scam, may examine him through video-conferencing as the former is not able to depose before it due to ill health.
"Raju is not able to appear before the court as he is hospitalised. Based on NIMS health report, we will decide on filing a petition requesting the court to examine him through video conferencing or any other means," Central Bureau of Investigation's deputy legal advisor B Ravindranath told PTI.
The 55-year-old prime accused in the multi-crore scam is suffering from Hepatitis-C and is undergoing treatment at the Nizam's Institute of Medical Sciences in Hyderabad.
Raju, who is in judicial remand, is 'abstaining' from court proceedings since September last year citing health reasons, initially for heart ailment and now for hepatitis since December 5.
Additional chief metropolitan magistrate and special judge trying the Satyam scam cases, BVLN Chakravarti, on April 12 had asked the NIMS to furnish details of Raju's health condition on a daily basis with copies of daily case sheets and medical examinations conducted on him since March 31 for verification.
However, no report was filed by the NIMS before the court after which the judge issued reminder to NIMS director to submit a report forthwith by April 23 without fail.
The special court trying the Satyam case wants to examine all the 10 accused including Raju in the case for allegations mentioned against them by the CBI in two separate charge-sheets, before commencing the trial in the case.
The court has been seeking detailed status reports on Raju's health and has sought know if Raju was medically fit enough to be produced before it.
Earlier in March this year the CBI had alleged that NIMS doctors were prolonging the treatment of Raju only to delay the trial in the case.
It also alleged that Raju had violated court orders and met several people at NIMS. The NIMS had on March 26 informed the court that Raju may be medically fit enough to appear in the court in three to four weeks.
"The treatment of Raju needs to be continued as in-patient for further four-six weeks, as he carries very high risk for morbidity on out-patient management," a NIMS report had said.