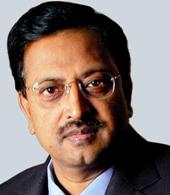 A special court in Hyderabad on Friday posted the matter on examination of former chairman of Satyam Computer Services B Ramalinga Raju, through video conferencing in connection with the multi-crore financial fraud in the IT firm, to May 7.
Raju, prime accused in the Satyam fraud, who is suffering from Hepatitis-C is currently undergoing treatment at the Nizam's Institute of Medical Sciences in Hyderabad, and has not been attending court proceedings since September last year citing health reasons initially the heart ailment and later the hepatic ailment.
The CBI had last week sought video linkage between the court and the NIMS, where Raju is under judicial remand, for the purpose of expediting the case. It is also planning for any other means for production of Raju in the case.
The additional chief metropolitan magistrate and the special judge trying the Satyam scam cases, BVLN Chakravarti, asked the defence counsels to file their objections or counters if any to the CBI petition to enable the court to take up hearing in the matter.
Following this the defence counsels requested for time after which the judge posted the matter to May 7, while extending the judicial remand of all the ten accused including Raju to the same date.
Image: B Ramalinga Raju