A day after the storm, it was apparently business as usual for Reserve Bank of India Deputy Governor K C Chakrabarty.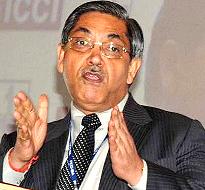 The man, who saw his role substantially reduced through a press release issued by RBI late on Tuesday night, came to his office on the first floor on time and had his usual round of meetings.
But two things were unusual - one, the visitors were far more than usual; and second, the rumours that he had quit became so strong that he had to take time off to deny these to a news agency.
Speaking to TickerNews Service, Chakrabarty said, "I have not resigned. I am sitting in my office". He added he did not wish to speak to news agencies.
The corridors of RBI, however, were abuzz with speculation over the reasons for such an unprecedented action by the central bank. The common perception was that Chakrabarty's role had been reduced because of the comments by an unnamed RBI official against the monetary policy stance.
Some bankers wondered whether such a harsh action was justified when it was not clear which RBI official resorted to such public criticism of the central bank.
Others said reallocation of the portfolios of deputy governors should have been treated as an internal matter and not publicised through a press release. Re-allocation of portfolios was also done in June 2009, just after the then deputy governor, Rakesh Mohan, quit and a few days prior to joining of K C Chakrabarty. But the order was not made public then.
Chakrabarty, a commercial banker who joined Mint Road in June 2009, was RBI's face for financial inclusion with the department of rural planning and credit under him. For the first time, he asked banks to submit their financial inclusion plans for the next few years, duly approved by their respective boards.
In fact, Indian Bank became the first bank to achieve 100 per cent financial inclusion in a district during his tenure as chairman and managing director.
In the past one year, Chakrabarty also initiated sweeping reforms on the human resources front. This involved recruiting professional laterally in various important functions like risk management and derivatives.
His latest initiative was improving customer service by banks. For this, he set up a committee headed by the high profile M Damodaran, the former chairman of the Securities and Exchange Board of India who is known for taking tough decisions. Chakrabarty will continue to look after the customer services department.
The desire to outsmart competitors has always been a trademark of this Benaras Hindu University gold medalist. In 2008-09, when RBI was aggressively cutting policy rates to counter the global financial meltdown, Chakrabarty reacted swiftly to bring down interest rates at Punjab National Bank, where he was the chairman and managing director.
The frequency of rate cuts took his competitors by surprise and they had no option but to follow suit. In the process, PNB become the bank with the lowest benchmark prime lending rate, beating even the country's largest bank, State Bank of India.
In PNB, he also announced the bank would not lend below the benchmark prime lending rate to corporate customers, a move which caught his peers off guard. The BPLR mechanism was characterised by high sub-PLR lending, making the system non-transparent. BPLR has now been replaced by the base rate mechanism and banks have been barred from lending below the base rate.
However, the secrecy and confidentially that is attached to an RBI deputy governor's post perhaps proved to be too formidable for this high-profile former banker.