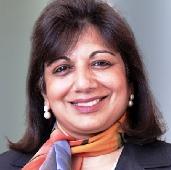 Biotech veteran Kiran Mazumdar-Shaw has slammed attempts to politicise the Bt brinjal issue and said the decision to opt or desist from cultivating the genetically modified crop should be left to farmers.
"I have always maintained that Bt crops need to be scientifically evaluated," she told PTI. "It is impossible to have a sensible discussion on GM crops when it is hijacked to unsubstantiated emotional levels."
The Biocon chairman said there is a regulatory path for GM crops which aims to establish safety and efficacy over an accepted period and it has been diligently followed by Bt brinjal on the basis of which the Genetic Engineering Approval Committee has given its positive verdict.
"If threats and allegations reverse this verdict, it will be a regulatory failing," she said, and expressed hope that environment minister Jairam Ramesh takes his decision with due respect being shown to scientific evaluation and the fact that Bt brinjal 'is an option, not a mandate.'
"It is up to farmers to opt or desist from cultivating Bt brinjal as in the case of Bt cotton. If there are no tangible benefits, there will be no takers for Bt brinjal. Let the farmers decide," Mazumdar-Shaw suggested.
The Genetic Engineering Approval Committee had last year given the go ahead for commercialisation of Bt brinjal but has faced staiff resistance from consumer groups and
Ramesh last month had said that final decision over allowing commercial introduction of Bt brinjal in the country would be taken by February 10.
As part of his national consultation programme on Bt brinjal, six public hearings have been held at various cities across the country and the seventh and last is scheduled to be held in Bangalore on February 6.
Mazumdar-Shaw, who is also chairperson of Karnatakas Vision Group of Biotechnology, said that she was also critical of the stand taken by the state government.
Chief minister B S Yeddyurappa initially said that introduction of Bt brinjal would sound a 'death knell' to farmers.
He later conveyed to the Centre that its commercial release should be deferred till the issue is thoroughly examined from all the angles by taking into account the views of all the stakeholders and conducting a long-term research for its bio-safety and its consequent contributions to food security and farmers' well-being.
"As for Karnataka, I am afraid every state government is politicising the issue and pandering to the veiled threats of NGOs and vested interests. It is easy for the opposition to whip up emotions on such a subject and the safest response would be to ban Bt brinjal," Mazumdar-Shaw said.
In Karnataka, brinjal is grown in about 15,000 hactares with annual production of about 3.6 lakh tons.
This accounts for 3.5 per cent in area and five per cent in production of total vegetable crops in the state.
Image: Kiran Mazumdar-Shaw