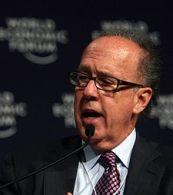 Financial services company Morgan Stanley's Asia chief Stephen Roach is more bullish on Indian economy than China.
He thinks the Indian government will be able to deliver on fiscal consolidation, disinvestment, tax reforms and infrastructure.
"In the near term, I am more bullish on India than China as I see the Indian government fulfilling our budget expectations," Stephen S Roach, chairman of Morgan Stanley Asia.
Finance Minister Pranab Mukherjee will present the Budget on February 26. Roach's expectations include cut down on fiscal deficit by 1.3 per cent to bring it 5.5 per cent of Gross Domestic Product (GDP).
"In infrastructure, Minister of Road Transport and Highways Kamal Nath has set a goal of investing $20 billion in road construction in the next five years. It may sound ambitious, but shows the intentions of the government," said Roach.
He expects more government companies to be divested to raise resources and rollout fast-paced tax reforms.
On public sector companies (PSUs) up for stake sale and the poor response some of them have received from institutional investors in the past, Roach said there will always be demand for quality PSUs.
Talking about the Asian economy, Roach said India and China need to lower their dependence on exports and emphasise on domestic consumption. "The Asian economy did not decouple from the global one in the past and it is going to be a victim of turmoil in the US and Europe unless the share of exports in GDP starts diminishing."
The sovereign debt crisis in Europe, which has led the equity markets around the world to take a hit are aftershocks of the recession in Europe in the last two years, said Roach.
"The problems we are seeing in Greece, Portugal, Spain and Ireland are aftershocks of the global crisis. The latest International Monetary Funds estimates the potential writedown of toxic assets worldwide at $3.4 trillion. So far, realised markdowns have been only half that amount. So, about $1.7 trillion of toxic assets are still to be written down," he said.
According to Roach, rising unemployment in the US has led to a fall in consumption and in turn has hit exports from the Asian countries.
"Last week's employment survey in the US claimed there has been a dip in unemployment. Politicians claimed joblessness in the US stood at 9.7 per cent. This is a mirage. In the US, driven by despair, people are giving up looking for jobs. Actual employment rate there stands at 11.5 per cent, 2 per cent higher than what the latest survey suggests," said Roach.